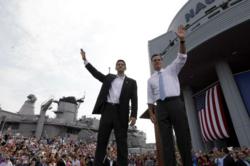 Milwaukee, WI (PRWEB) August 13, 2012
After U.S. Rep. Paul Ryan was chosen as Presidential-hopeful Gov. Mitt Romney's running mate on Saturday, the Milwaukee Journal Sentinel has created a new section online following Ryan's journey along the campaign trail.
With exclusive interviews, editorials and photo galleries from Ryan's home state, the Milwaukee Journal Sentinel's Paul Ryan File contains extensive coverage of the 2012 presidential race from Wisconsin and across the nation.
Browse photo galleries, understand Ryan's previous work in Wisconsin and watch archival footage of U.S. Rep. Ryan's policy on JSOnline.com/PaulRyan.