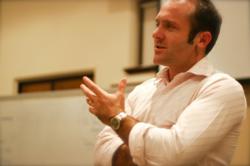 "You are about to get what you think you deserve."
(PRWEB) August 14, 2012
Popular media entrepreneur and speaker Jonathan Doyle has released a new book entitled How To Get The Man Of Your Dreams that aims to help young women achieve relationship success at a time when many young women are complaining of an absence of committed and desirable male partners.
The new book explores a range of themes from self-esteem to learning how to avoid what are increasingly labelled 'man-boys', young males in adult bodies who have the emotional maturity of boys in their early teens.
Doyle states, "In recent years I have delivered seminars to over a quarter of a million people, including tens of thousands of young women and the experience has taught me so much. There are definitely young women who are enjoying positive relationships but I would have to say that on balance, more would be able to look back and admit that their previous relationships have often been quite disappointing."
Doyle began a career in education, completed extensive post-graduate work in Marriage and Family Studies and then took that knowledge on the road working with a diverse range of clients across a range of sectors.
He says, "No matter where you are in the world, the human heart does not change. Both women and men want love, intimacy and deep connection. In a crass and superficial media culture there are problems caused by both the lack of depth in social media relationships and also other problems caused by a hyper-sexualised and pornographic culture that often leave both women and men feeling disappointed and hurt."
The book offers a range of powerful stories shared by young women who have attended various seminar programs and also offers a range of practical strategies and advice for creating powerful relationship changes.
The book is available at his website http://www.jonathandoyle.co