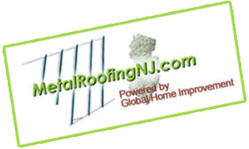 Hoboken, New Jersey (PRWEB) August 14, 2012
As a metal roof installer in NJ, Metal Roofing NJ is now offering $2,000 off any standing seam, metal shingle, shake, or tile roof projects over $20,000. When thinking about replacing an asphalt roof, these Metal Roof Installers in NJ are the professionals to call for any repairs or replacements.
With Seam Metal Roofs in Cedar Grove, homeowners can choose an aesthetically pleasing look for both historical and contemporary homes. They can handle any roofing project no matter what scale it is. Metal Roofing NJ is proud to offer standing seam roofs with its primary advantages being that they are manufactured from recycled steel or aluminum.
A spokesperson of Metal Roofing NJ stated, "We are proud to offer some of the greatest roofing materials to homeowners. When it comes to our aluminum roofs in NJ, they are guaranteed to never rust! Especially with homeowners being so close to the coastal line this is ideal to have as a roof for your home. As being one of the leaders in standing seam installations our technicians will provide excellent metal roofing in NJ."
For those interested in roofing tiles, their metal roofing contractors in New Jersey will assist homeowners in choosing a more traditional, rustic or elegant look for their home's curb appeal. With these discounts in place, Metal Roofing NJ wants every homeowner to take advantage of this deal.
Metal Roofing New Jersey is the area's leading installer of standing seam metal roofs and metal shingle roofs. They pride themselves in offering lifetime metal roofing solutions that will add beauty, durability, and peace of mind to any historical or contemporary home.
To learn more visit http://www.metalroofingnj.com