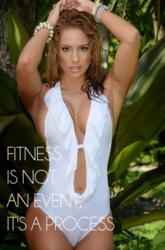 Miami, FL (PRWEB) August 14, 2012
Best-selling author, motivational mega-force, and bikini lover Jennifer Nicole Lee recently celebrated her 1,000 video on her YouTube Channel at http://www.JNLYouTube.com She recently inked the deal with StyleMeFit to take over her channel, which is full of fitness, fashion, and food tips to help the modern day mom and wife achieve their lifestyle dreams.
JNL's multi-media team divided up the 1,000 videos into different playlists, which are JNL Fusion, Fitness Model Factory, Fun Fit Foodie Recipes from JNL's Cookbook, Modeling & BTS (Behind The Scenes), and also for the bikini fan JNL's Bikini Mania Playlist.
JNL enjoys producing YouTube's that help inspire her fitness friends and worldwide fans. "Its my goal and passion to increase the quality of everyone's lifestyle. So if someone smiles, laughs, gets excited, or happy while viewing my vids-then I have succeeded."
With no sign of slowing down, JNL is now embarking on her big beauty secret, with rumor having she will be soon opening up a Beauty & Wellness Center in either Los Angeles or Miami. She is also hosting Sweat AC in Atlantic City, where one can meet their fitness idol. She is then off to Las Vegas for the world's largest fitness expo, entitled Mr. Olympia Sept 28th-29th. JNL will then be jetting back to the other side of the US, as she hosts her JNL Worldwide produced NYC Fitness Model Factory 1 Day Mega Event in Manhattan to some very lucky hand selected applicants. Ending her tour of celebrity appearances, JNL will be then hosting her Miami Beach Fitness Model Factory 1 Day Mega Event on South Beach on November 11, 2013. With dates already booked into the new year of 2013, JNL will be certifying women and personal trainers who have come in from around the world to Miami, Florida Jan 18-21st 2013 in her JNL Fusion Workout method.
With so many events in her future, there is sure to be 1,000 more videos of JNL inspiring, motivating, training many to be their very best.
To join the masses who have subscribed to her channel, please visit http://www.JNLYouTube.com
PLAYLISTS:
http://www.youtube.com/playlist?list=PLAA7AE0743A2612CA&feature=plcp