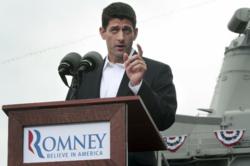 Milwaukee, WI (PRWEB) August 13, 2012
Following the announcement of U.S. Rep. Paul Ryan's Vice-Presidential candidacy Saturday, Ryan will appear at the Iowa State Fair Monday afternoon to address fairgoers directly.
Historically the soapbox at the Iowa State Fair has been a place of political tradition where representatives from all parties have been given the opportunity to speak to their constituents for a maximum of 20 minutes from a 20 – foot – wide, 10 – foot – deep platform inside the fairgrounds.
Congressman Ryan will also be joined by President Obama in Iowa. The incumbent kicks off a three-day bus tour across Iowa making stops in Council Bluffs and Boone.
For up-to-the-minute coverage of U.S. Rep. Paul Ryan's campaign, visit JSOnline.com/PaulRyan.