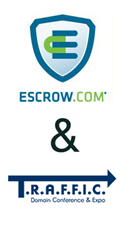 Rancho Santa Margarita, California (PRWEB) August 14, 2012
Two world leaders working together.
Escrow.com, the world's leading Internet escrow company, and T.R.A.F.F.I.C., the benchmark of Domain conferences, have announced a strategic partnership. Escrow.com will be the exclusive escrow provider for the T.R.A.F.F.I.C. Domain Auctions. T.R.A.F.F.I.C. founders, Rick Schwartz and Howard Neu, reached out to Escrow.com with the idea and Escrow.com couldn't have been more pleased. Brandon Abbey, President of Escrow.com, said "Rick and Howard have done and continue to do many great things for the domain industry. We consider this additional validation that we have been providing excellent service to the community and thank them for this opportunity."
Rick Schwartz commented, "T.R.A.F.F.I.C. is for serious domain investors and if you are serious about this business you know and probably already use Escrow.com. They are a key partner our industry and we are excited to have them join the T.R.A.F.F.I.C. team."
About T.R.A.F.F.I.C. - T.R.A.F.F.I.C. started as a meeting of Rick's board in 2002. In 2004 it became the Targeted Redirects and Financial Fulfillment Internet Conference, or T.R.A.F.F.I.C., for short. Since that first show in Delray Beach, Florida, the show has continually redefined itself as the GOLD STANDARD of domain shows, because it is all about the best quality domains, best quality traffic, highest payouts, biggest business and the best opportunity.
About Escrow.com - Headquartered in Rancho Santa Margarita, CA, Escrow.com and its operating subsidiaries provide online escrow services that facilitate and accelerate e-commerce by assuring secure settlement. Escrow.com is a privately held company that has pioneered the process of online escrow services. The Company, founded in 1999 by Fidelity National Financial, has established itself as the leading provider of secure business and consumer transaction management on the Internet. Licensed by the California Department of Corporations, Escrow.com recently surpassed $1 billion in secure Internet transactions processed.