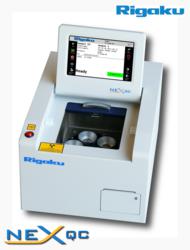 Austin, TX (PRWEB) August 14, 2012
Applied Rigaku Technologies, Inc. today announced a new empirical method for the measurement of chlorine (Cl) and sulfite (SO3) in cement. Application Note #1250 demonstrates the capability of the Rigaku NEX QC energy dispersive X-ray fluorescence spectrometer (EDXRF) in quality control during the production of cement.
Monitoring proper levels of chlorine is imperative in producing cement. Soluble chlorine, most often calcium chloride (CaCl2), can be added to concrete and cement as an accelerating agent for strength development or shorter setting times. The sulfur content helps determine drying rates and strength, as well as the ability of the cement to dry under water.
The presence of chlorine in reinforced concrete, however, can cause corrosion of steel reinforcing material, possibly causing premature structural damage. The monitoring and control of both the chlorine and sulfur levels is therefore critical. EDXRF spectrometry is a routinely employed for this purpose and the Rigaku NEX QC analyzer is a small, user-friendly bench-top EDXRF system ideal for use along the production and QC processes in a cement plant.
For the new method, each sample is prepared by grinding the sample to a fine, dry, homogeneous powder of <200 mesh (<75um particle size) followed by hydraulically pressing 5 grams of sample into a pellet using 20 tons pressure for 30 seconds. Nine assayed cement samples were used to develop empirical calibrations for Cl and SO3
The results show that the NEX QC analyzer provides excellent performance for the measurement of Cl and SO3, offering a simple and fast means of analysis during the QA/QC process in the production of cement.
A copy of this report may be requested at:
http://www.rigakuedxrf.com/edxrf/app-notes.html?id=1250_AppNote
About Rigaku
Since its inception in Japan in 1951, Rigaku has been at the forefront of analytical and industrial instrumentation technology. Rigaku and its subsidiaries form a global group focused on life sciences and general purpose analytical instrumentation. With hundreds of major innovations to its credit, Rigaku and its subsidiary companies are world leaders in the fields of small molecule and protein crystallography, X-ray spectrometry and diffraction, X-ray optics, as well as semiconductor metrology. Rigaku employs over 1,100 people globally and its products are in use in more than 70 countries – supporting research, development, production control and quality assurance activities. Throughout the world, Rigaku continuously promotes partnerships, dialog, and innovation within the global scientific and industrial community.
For further information, contact:
Scott Fess
Product Manager
Applied Rigaku Technologies, Inc.
tel: +1. 512-225-1796
info(at)RigakuEDXRF(dot)com