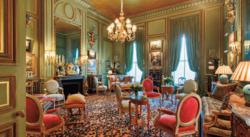 "There is simply no other program of this calibre anywhere else in the world," Jarvis Slade, Chief Operating Officer, Christie's International Real Estate
New York, New York (PRWEB) August 15, 2012
Senior Vice President for Christie's International Real Estate, Kathleen Coumou, sat in the Christie's saleroom for late June's A Taste for Luxury: Two Great Houses from America's Gilded Age sale and watched as an international audience bid on the private collection from two historic residences: The Stanford White Mansion at 973 Fifth Avenue and the country estate of Blairsden in Peapack, New Jersey. Christie's was commissioned to sell the contents of these exquisite residences while the company's wholly-owned subsidiary, Christie's International Real Estate, provided international marketing for both estates, working in conjunction with its New York City Affiliate, Brown Harris Stevens, and its northern New Jersey Affiliate, Turpin Realtors.
As Coumou watched the sale of furniture, tapestries, old master paintings and drawings, silver and porcelain, elegant reminders of the early 20th-Century and of those great families and fortunes, she received word that the Stanford White Mansion had closed. The sale of the US$49 million property at 973 Fifth Avenue was complete, brokered by Paula Del Nunzio of Brown Harris Stevens.
"To learn this while sitting in the sale room as the contents of the home were being auctioned was surreal," Coumou says. "It really hit home what a unique service we offer. Experts in both art and real estate best serving our important clients by working hand in hand under the Christie's brand."
Two weeks later, another property in New York closed, The Huguette Clark apartment at 907 Fifth Avenue for US$24 million, well above its list price. Mary Rutherford and Leslie Coleman represented this storied estate. Christie's sold the jewels from the estate in April.
"We continue to take great professional pride in providing a truly connected and extended service for our company's clients," says Neil Palmer, Chief Executive Officer of Christie's International Real Estate. "Our ability to provide advice on real estate and art through trusted relationships, in many cases held over generations, and across international time zones, creates exceptional results. This direct and seamless integration with the world's leading art business, drives all categories of luxury sales momentum and provides exceptional customer care to our valued clients."
Both Fifth Avenue properties that sold were enrolled in the Bespoke Marketing Program, offering superlative auction house exposure to the finest international real estate. While only a handful of all the 81 properties in the program will qualify for a single-owner sale, all properties do receive high-visibility showcasing at Christie's auction venues around the globe—certainly among the most exclusive, glamorous, and vibrant marketing stages in the world.
Top sales from the program include an historic property in Kyoto, Japan, notable for its ancient gardens and listed for ¥8,000,000,000 (approximately US$96 million); a 32-room residence on Park Avenue in New York City, listed for US$60 million, in a building designed by Rosario Candela; Pinebrook in Atherton, California, and owned by a member of the Levi-Strauss family for more than a century, was listed at US$59.5 million; Porcupine Creek, with its private 19-hole golf course in Rancho Mirage, California, listed at US$55 million; Evermay, in Washington, D.C., was listed for US$25.9 million and commanded a price, though undisclosed, that ranks among the highest ever achieved in the area; and Medway Plantation, located near Charleston, South Carolina and dating back to 1681, sold for US$11 million.
The Bespoke Marketing Program is available to all Affiliates in the Christie's International Real Estate network for promotion of their market's top properties. Properties recently enrolled in the program include Le Château in Sydney Australia, offered at A$6.5 million by Ken Jacobs; Little Bokeelia Island off Florida's Sunset Coast, offered at US$29.5 million by Michael Saunders & Company; Evans Ridge in Denver, Colorado, offered at US$19.5 million by Kentwood Real Estate; Humewood Castle in County Wicklow, Ireland, offered at €8 million by Sherry Fitzgerald; and Top-of-the-Ridge in Rancho Mirage, California, offered at US$18.5 million by HK Lane Real Estate.
The success of this program is unrivalled:

81 Total Properties in the Portfolio (many of which are the result of relationships with the leading art business)
Total Value of the Sale Portfolio: US$1.7 billion
Average Sale Price: US$22 million
—US$10 million and above: 51
—US$20 million and above: 27
Total Value Sold: US$602 million
"What distinguishes the Christie's International Real Estate Bespoke Program is the high level of client care provided by company management, the close involvement of Christie's, the exceptionally qualified and proprietary marketing venues, and the company's passionate expertise for marketing and sale of luxury real estate," says Jarvis Slade, Chief Operating Officer who oversees the global program. "There is simply no other program of this calibre anywhere else in the world."