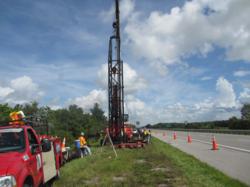 Drivers and passengers traveling along Florida's Turnpike this fall will be safer as a result of this advanced barrier system constuction.
Orlando, FL (PRWEB) August 20, 2012
Florida's Department of Transportation and the Florida turnpike authority are enhancing the safety of the Florida's Turnpike. The pilot project addition of the High Tension Cable Barrier System resulted in no penetrations through the cables and no fatalities due to crossovers. Fender Marine Construction a division of Cloud 9 Services, Inc. is a pile driving contractor and was selected to install the 24 inch by 24 inch concrete piling that anchor the High Tension Cable Barrier System being added along Florida's Turnpike. The work is taking place on both the northbound and southbound sides of Florida's Turnpike between mile marker 234 and the Yeehaw Junction exit. The installation of the piling is critical to the strength of the guard rail assembly. The concrete piles are driven flush with the ground some being embedded 25 feet and some pile as little as 15 feet into the ground. Vehicles that veer off of the highway in these areas will be protected from entering wetlands and forests along Florida's Turnpike. The work of driving the pile requires special equipment including a crane, diesel pile driving hammer, leads and a heavy steel template.
The safety of the workers on this project is critical. Therefore, we provide the required maintenance of traffic equipment during our work hours. Cloud 9 Services, Inc.'s employees have the highest certification of maintenance of traffic control. Any time workers are on a highway project we request that drivers operate their vehicle within the legal speed limits and otherwise be as safe as possible. During a five-day period of our work on the project five major accidents occurred within 5 miles of our worksite.
These accidents along the Florida Turnpike are not unusual. Florida's traffic statistics along the Turnpike show that more people would die in Palm Beach and Broward County in accidents this year than last year. Further, as of the end of July at least 85 people have died in traffic accidents in Palm Beach County alone. That's an increase of at least eight deaths over the same time last year. Broward County's death toll is higher at 106 and that's compared to 87 from last year. The Florida Highway Patrol has said that this number may continue to grow. One possible cause for this increase in traffic accidents could be associated with distracted driving such as talking on the telephone, sending text messages, eating food and grooming. Right now it's not illegal to text or use a cell phone by driving and you can't get a ticket for being distracted by while driving. Some state legislators are pushing laws to make it illegal to text and/or operate a cell phone while driving.
Cloud 9 Services, Inc. was founded in 2001 in Orlando Florida. The dba of Fender Marine Construction was begun in 2009 and works primarily driving pile for marine construction projects. Fender Marine Construction is a Florida State Certified Marine Contractor and on the Board of Directors of the prestigious Florida Marine Contractor's Association. Lucy fender the President of Cloud 9 Services, Inc. joined the company in 2004. Rick fender the vice president of Cloud 9 Services, Inc. is project managing this pile driving operation and looks forward to a successful completion. Our definition of successful completion means that all pile are installed on schedule properly and without any accidents. Cloud 9 Services, Inc. dba Fender Marine Construction 1201 West Jackson Street, Orlando, FL 32805 407-481-2750