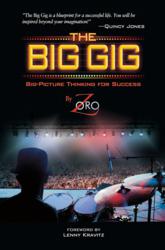 Los Angeles, CA (PRWEB) August 13, 2012
Internationally renowned rock musician Zoro, who is famous for having played drums for Lenny Kravitz and other legendary performers, was recently honored at the nation's capitol as part of the White House Fatherhood Champions of Change & Convening on Engaging Men and Boys. Zoro was among a select group recognized for the important work they do to help shape our culture by promoting responsible fatherhood and mentoring of boys.
"Being invited to this event by the highest office in the land and getting a shout out for my work as an author and mentor from Special Assistant to President Obama Joshua DuBois was one of the great honors of my career," Zoro enthusiastically stated. "It was truly a privilege to be among such distinguished guests who are each doing their part to help strengthen American families."
President Barack Obama in 2010 announced the creation of the President's Fatherhood and Mentoring Initiative, which was spearheaded by the White House Office of Faith-Based and Neighborhood Partnerships. Attorney General of The United States, Eric H. Holder Jr., and United States Secretary of Education, Arne Duncan, were among those who encouraged the White House attendees to continue the good work they are undertaking.
Other activities of Zoro include a national media tour of his current book, The Big Gig: Big-Picture Thinking for Success (Alfred Music Publishing). The book is a one-of-a-kind insider's guide to vocational, personal and spiritual aspects of achievement and the means by which Zoro is accomplishing his goal of inspiring an entire generation to pursue their dreams with excellence. Affectionately called The Minister of Groove, Zoro has appeared on a variety of television and radio shows, including a national interview on Fox News with Lauren Green and multiple appearances on Glenn Beck's GBTV's Liberty Treehouse.
According to masters of music, television, and business, Zoro has earned the credibility to inspire readers to aspire higher.
Grammy-winning recording artist Lenny Kravitz writes in his foreword to The Big Gig: "Zoro's heart, discipline and passion are what propelled him to greatness. … His music and life lessons are about using your God-given talents to the maximum."
Multi-award winning producer and music icon Quincy Jones says of the book: "The Big Gig is a blueprint for a successful life. You will be inspired beyond your imagination!"
Paul Shaffer, musical director of Late Show with David Letterman states, "In The Big Gig, Zoro lays it all down."
Wally Amos, founder of Famous Amos Cookies, weighs in: "The Big Gig will be music to the mind of everyone who reads it. The book is honest, insightful, instructional and filled with information to help you succeed in any field you choose. I highly recommend it to anyone who can read."
And Kathie Lee Gifford, co-host of NBC's Today Show and former host of Live with Regis & Kathie Lee states, "The Big Gig is a fantastic book packed with enough motivation, inspiration and education to fuel anyone's dream no matter what it is. Throughout its pages, Zoro reminds us of the potential for greatness that lies inside each of us and shows you step-by-step what it actually takes to achieve excellence in all areas of your life. A well-crafted manual for the complete picture of success and a must read for all!"
View Zoro's welcome to the book on this video trailer, here.
The Big Gig: Big-Picture Thinking for Success (00-37750) is available for $19.99 at major retail book outlets, music retailers, and at alfred.com/thebiggig. The Big Gig is also available digitally on iBook, Kindle, and Nook readers. Personalized autographed copies are available at thebiggigbook.com.
Zoro is available for interview. Media review copies of the book are available on request.
ABOUT ALFRED MUSIC PUBLISHING
Alfred Music Publishing, the world's largest educational music publisher, produces educational, reference, pop and performance materials for teachers, students, professionals, and hobbyists. Learn more at alfred.com.
CONTACT:
Gilbert Paez
Public Relations Manager
P: 818-891-5999, ext. 282
F: 818-830-6259
gpaez(at)alfred.com
alfred.com
Media Contact:
Lisa Cieslewicz
Three Trees PR
P: 513-515-4614
Lisa(at)ThreeTreesPR.com
Zoro Direct:
Zoro The Drummer
P: 818-257-2414
zorothedrummer(at)earthlink.net