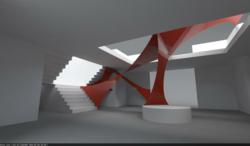 San Diego, CA (PRWEB) August 14, 2012
NewSchool of Architecture and Design(NSAD) students created a multimedia display screen for this year's "Beyond the Banner" Summer Salon Series at the San Diego Museum of Art. The project, part of an Information Displays course, was developed under the guidance of NSAD instructor David White, an artist and curator.
The project is an example of how NSAD instructors connect students with community projects, using the city as an urban laboratory of inspiration and experimentation. The "Beyond the Banner" Summer Salon Series 2012 features a rotating lineup of "pop-up" Friday night exhibitions, June 1–Aug. 31, at the San Diego Museum of Art. The event is co-curated with Agitprop, a community art and culture group founded by White in 2007 with the collaboration of other artists and supporters.
Through his involvement in the Summer Salon Series, White was able to offer his nine students the opportunity to create information displays for the exhibits, which are being used for some of the Friday presentations. The multimedia display is a projection screen created with fabric that allows for multiple configurations when draped in the museum's rotunda and anchored with wire cables and sandbags. It will be used for presenting schedule and events information. It can also be used to highlight information from presenters who use time-based media—film, video and other projections.
The Information Displays class, which concluded in June, included students in the NSAD Master of Architecture and Bachelor of Architecture programs. Participating students were Antonio Barragan, Jared Basler, Geoff Curzon, Mahmood Fadul, Rachel Hammond, Joshua Liebman, Daniel Maldonado, Eric Spector and Samantha Winland. The class was a "special topics" course open to students at all program levels.
Visit the course blog at http://infodisplays2012.blogspot.com.
About NewSchool of Architecture and Design
NewSchool of Architecture and Design (NSAD), founded in 1980, is located in San Diego, California. NSAD is accredited by the Accrediting Council for Independent Colleges and Schools (ACICS). ACICS is listed as a nationally recognized accrediting agency by the U.S. Department of Education and the Council for Higher Education Accreditation. NSAD's Bachelor of Architecture, Master of Architecture and Executive Master of Architecture programs are accredited by the National Architectural Accrediting Board (NAAB). NSAD also offers a pre-professional Bachelor of Arts in Architecture, a Bachelor of Science in Digital Media Arts, a Bachelor of Science in Construction Management, a Bachelor of Landscape Architecture, a Master of Landscape Architecture, a Master of Construction Management and a Master of Science in Architecture. NSAD was ranked among the top 10 undergraduate architecture schools in the western United States, according to the DesignIntelligence report "America's Best Architecture & Design Schools 2012." For more information, visit http://www.NewSchoolArch.edu.
# # #