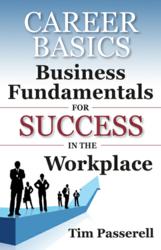 Cleveland, Ohio (PRWEB) August 15, 2012
New graduates entering today's difficult job market cannot afford "on the job" soft skill training and development because they may quickly find themselves back in the ranks of the unemployed.
In their new book, "Career Basics – Fundamentals for Success in the Workplace," Communication Stars, LLC and author Tim Passerell share a unique blend of critical business skills, personal attributes, and practical advice that gives new college graduates the business fundamentals required for excelling in the workplace and building a successful career. Passerell provides graduates with the critical "real world" knowledge that human resource departments and hiring managers are looking for in job candidates as well as their current employees. Some tips shared are the basic yet often overlooked fundamentals, while most of the detailed information is simply paramount for achieving career success in today's competitive job environment. For example, one worker Passerell helped was able to get a promotion after making an adjustment in how they approached and shared information with their boss.
Numerous employer surveys, including the 2012 survey by The National Association of Colleges and Employers (http://www.naceweb.org/Press/Releases/What_Matters_in_a_Resume_.aspx?referal) show that written communication skills rank as one of the most desired skills by employers. Unfortunately, in today's age of "tweeting", it is also one of the skills often seen lacking among new employees. Passerell notes, "While employers assume job candidates possess basic skills, it is the individuals with refined and well developed soft skills that will separate themselves from the average employee and job candidate; both in interviews and in on the job performance. Indispensible soft skills such as self- awareness, effective communication, and strong emotional intelligence factors are all critical today for career success and becoming a valued employee." The new college graduate or experienced worker who may be stagnated in his career development can benefit greatly from self-analysis and implementation of a sound corrective plan of action. For additional information, go to http://communicationstars.com/Soft_Skills.html
As noted by The University of Toledo's career services site, new college graduates should also be sure to embrace a positive attitude, learn the company's culture, and develop collaboration skills needed for success when working in teams. Within the pages of "Career Basics" - these along with other vital topics including interviewing, negotiating, goal setting, and practicing proper business etiquette are covered.
Based on over thirty years of business experience and excelling in service, sales, and management roles within international organizations, Passerell shares the often forgotten basics as well as the more advanced principles of highly desired employees needed for today's growing organizations. College graduates entering the workforce who want to separate their "brand" from the average employee should invest in themselves and embrace these basic fundamentals for career success.
Communication Stars also offers consultations to help individuals strengthen their professional skills and maximize their career success. Individuals interested in finding more information or help on career paths can visit Communication Stars at http://communicationstars.com and can contact Tim Passerell at 440-759-7161. The book, "Career Basics-Fundamentals for Success in the Workplace" can be found on the Communication Stars website and as an e-Book on Amazon.com at http://www.amazon.com/Career-Basics-Fundamentals-Workplace-ebook/dp/B008N3C7NO/ref=sr_1_9?s=digital-text&ie=UTF8&qid=1344906989&sr=1-9&keywords=career+basics