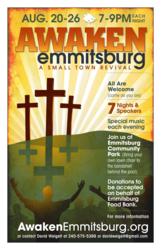 What Creation made me realize is how awesome it is when people from different circles come together as a community to draw closer to God.
Emmitsburg, Maryland (PRWEB) August 14, 2012
Local resident and business owner, David Weigelt, has organized for a seven-day revival in the small town of Emmitsburg, Maryland. Struck with the idea after attending Creation Music Festival with his family this summer, David feels that Emmitsburg offers a unique setting for people to come together around their faith.
"What Creation made me realize is how awesome it is when people from different circles come together as a community to draw closer to God." David went on to say, "I know a lot of my neighbors are Christians but, because we all go to different churches and lead such busy lives, we often don't get to share on this level."
In addition, Weigelt sees this as an opportunity to bring people together in prayer. "These are weird, unsettling, times. A lot of people are feeling a lot of anxiety. I believe in the power of prayer and believe it can be even more powerful when engaged in as a community" Weigelt says.
Awaken Emmitsburg - as the event is being called - will offer a variety of speakers and music from 7 to 9pm each evening. The speaker lineup includes members from the Catholic, Methodist, Baptist, Lutheran, Assembly of God and Non-denominational communities. Musical groups include a blues-gospel duo, praise and worship band, Christian rock band, bluegrass band and female quartet. "Putting together the musical part of this has been amazing," David said. "Frankly, I've been blown away at the level of interest by such incredible talent."
Starting at 7pm each evening, local business people, mothers, fathers, pastors and coaches will share their personal stories of how faith and God have played a role in their lives. Music will follow after which the featured speaker for the evening will present on different topics each night. Some of the topics include: "Discovering Christ" "Personal Revival" "The Presence of God" "Healing" and "Sports and Faith." The week will wrap up Sunday night with radio and television show host, Reverend Monsignor Swetland, from Mount St. Mary's University, speaking on taking your faith out into the world.
Christian at heart, Awaken Emmitsburg is open to people of all denominations, faiths and those who may have no faith or simply aren't sure. "We're all in the same boat," Weigelt says. "Come as you are - for one night or all seven. I'm confident God will speak to you."
Awaken Emmitsburg will be held at the Emmitsburg Community Park in the band shell behind the town library and pool. Admission is free but donations will be accepted each night for the Emmitsburg Food Bank.
For more information, visit http://www.AwakenEmmitsburg.org or contact David Weigelt at 240-575-5399 or davidweigelt(at)gmail(dot)com.