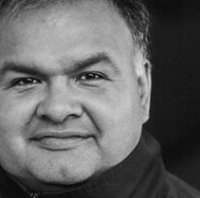 Stated Mirabal about the stalwart flute player Mr. R. Carlos Nakai, "When we met he looked at my hands and laughed. He said, "I have that same scar. It's the scar of the flute maker."
Santa Fe, New Mexico (PRWEB) August 13, 2012
Santa Fe Bandstand is a free summer music festival on the Santa Fe Plaza, produced by Outside In Productions and a crew that strives to present the city with a wide range of performers, who represent the diversity and wealth of musical talent in this region. Performances take place Monday to Thursday, through August 16, 2012. All shows are free and open to the public. During evening performances, the first act begins around 6 p.m., the headlining act performs at approximately 7:30 p.m. Gary Farmer & The Troublemakers and Robert Mirabal are the headline acts from 6 to 8:30 p.m., Tuesday, August 14, 2012 for the free Santa Fe, New Mexico summer music festival Santa Fe Bandstand. The evening's event and the entire Santa Fe Bandstand music line-up is featured on local on-line visitor guide SantaFe.com
Gary Farmer and the Troublemakers are a blues band. Established in 2004, and based in Santa Fe, New Mexico, the band actively tours the United States and Canada under the label Gonzo Drive Records.
Farmer, a long time actor appearing on both stage and screen for thirty-five years is the driving force behind Troublemaker's entertaining style of contemporary and traditional blues music. The Troublemakers started out by playing the music that influenced them-- John Lee Hooker, Willie Dixon, Muddy Waters, Howlin' Wolf and Freddie King while also playing the contemporary blues of Keb Mo, Dr. John, Taj Mahal and Robben Ford till we started developing our own blues music.
Two-time GRAMMY Award winner, Robert Mirabal, lives with his family at the foot of the sacred Taos Mountain in northern New Mexico.
Maintaining a traditional life, keeping the centuries-old customs of the Taos Pueblo people, Robert has been described as a Native American "Renaissance man" - musician, composer, painter, master craftsman, poet, actor, screenwriter, horseman and farmer - and he travels extensively playing his music all over the world. If you live a traditional life you see things differently—spiritually and musically. His first flute came when he was 18 with money he borrowed from his grandmother, and shortly afterward he had the opportunity to meet Native American flute player R. Carlos Nakai who greatly influenced him. When we met he looked at my hands and laughed. He said, "I have that same scar. It's the scar of the flute maker."
In the years since, Robert has continued the evolution of his flute making and has also become an accomplished novelist, poet, craftsman, composer, dancer, actor, painter, sculptor, concert performer and recording artist. His dozen albums of traditional music, rock and roll, and spoken word present a contemporary view of American Indian life that is unequaled.
About SantaFe.com:
SantaFe.com provides locals and visitors to Santa Fe alike the most current interactive platform for events, music, arts, business, dining and lifestyle. SantaFe.com is a division of Hutton Broadcasting, located at 2502 C. Camino Entrada, Santa Fe, NM 87507
Contact Information:
Scott Hutton
SantaFe.com / Hutton Broadcasting
http://www.santafe.com
(505) 471-1067 (Media inquiries only, please)