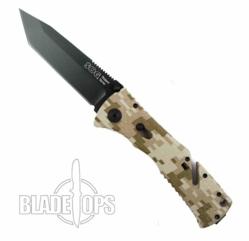 A safety lock on the blade prevents accidental release, yet the knife is functional even when closed.
West Jordan, Utah (PRWEB) August 15, 2012
The new, SOG Trident TF12, spring-assisted knife is unlike any other, and BladeOps.com is the only place to get it. Easily recognizable as another quality blade from SOG, this knife, nicknamed the Thorny Devil for its resemblance to a dangerous desert lizard, has unique coloring and features that make it an outstanding choice.
The black tanto blade and camo-colored handle are equally eye-catching and highly functional, delivering everything you look for in a knife. The sharpness of the 3.75-inch blade provides reliable service in countless situations. The textured handle and finger ridges increase your gripping ability. The spring-assisted blade release and reversible pocket clip work for both right- and left-handed users. You can also open the Trident quickly and easily with just one hand.
A safety lock on the blade prevents accidental release, yet the knife is functional even when closed. The unique, grooved cutout exposes a small section of the blade when it's shut so that you can effortlessly cut fishing line or paracord without using the full blade. Unlike other spring assisted knives with a similar feature, the TF12 uses the actual knife blade, meaning the edge you use to cut lines stays sharp.
A total of 8.5 inches in extended length, the handle is built of strong, yet lightweight Zytel that is reinforced with glass. At only 3.6 ounces, this knife is easy to transport and easy in your hand, yet it offers sturdy and reliable usability. SOG also offers a lifetime warranty on this unique knife.
BladeOps.com is proud to be the exclusive carrier of the USA-assembled SOG Trident TF12 in the black and camo coloring. The company carries an extensive range of quality knives from top manufacturers, including others in the SOG collection. Additional featured products include fixed, automatic and assisted-opening blades from makers like Benchmade, Gerber, Pro-Tech, Kershaw, Smith & Wesson, Spartan and many more.
The BladeOps.com website features a wealth of information to assist buyers in making a well-considered purchase. The Blade of the Day highlights special offers on notable knives and a handy Buyer's Guide helps shoppers understand the different qualities and uses associated with various blade types. Several available articles seek to educate consumers with regard to knife terminology, functions, history, laws and more. When it comes to knives, BladeOps.com meets all your purchasing and informational needs.