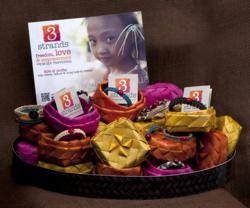 With the sale of every 3Strands handmade bracelet and gift box, money is raised to help empower, teach and employ young women who have been rescued from the evils of sex trafficking.
Los Angeles, CA (PRWEB) August 15, 2012
3Strands is a fashion brand attached to a cause - to fight sex trafficking around the world by supporting organizations such as Agape International Missions (AIM). With the sale of every 3Strands handmade bracelet and gift box, money is raised to help empower, teach and employ young women who have been rescued from the evils of sex trafficking. http://www.3strandsglobal.com
The first of the 3Strands products, wax-cotton woven bracelets with a signature 3Strands metal closure, are all handmade by rescued young women. Each bracelet is made to purposefully remind the wearer of the trafficking survivor who made it. The three pieces of cord comprising the bracelet symbolize the freedom, love and empowerment these women experience, braided together and not easily broken. The incorporation of a single red string, barely visible inside the center of each bracelet, illustrates the souls of these women and how they are practically invisible to those who have bought and sold them in the past. Every bracelet displays one fragile, red seed from the pods of Sandalwood trees, native to Cambodia. The beautiful, glossy, scarlet seeds in their natural beauty, created by God, represent the beauty in each of the women who have been freed, loved and empowered with a hope for the future. One would never know that these gorgeous seeds come from the Sandalwood tree's colorless pods which eventually dry up, fall to the ground, forgotten and trampled under foot. To Don Brewster, the founder of AIM, these pods represent that what the inhumane trafficking industry sees as worthless actually contains something priceless. As each 3Strands bracelet is made by hand, with love, the women incorporate the red Sandalwood seed in the design reminding them of their beauty within as they proudly sign their name to each bracelet.
Sex trafficking is a multifaceted, complex problem that cannot be solved in one step, one program or one year. That is why, since 2005, AIM has been innovating on the battlefield. AIM's programs Fight Trafficking, Restore Victims and Transform Communities, making a holistic and successful strategy in the ground war on sex trafficking. They are committed to Prevent, Rescue, Restore and Equip. By providing these young women with a safe environment to live after they have been rescued, AIM is able to restore and protect these survivors of sexual slavery.
3Strands was initially created to fund the Agape Training Center (ATC – operated by AIM) in Svay Pak, Cambodia, which teaches women over 16 years old skills to be empowered in the workplace and allows them to be financially stable after being rescued by AIM from human trafficking (sexual slavery). A recent documentary called "The Pink Room" http://thepinkroommovie.com/ focuses on the efforts of AIM and has received awards and recognition by international film festivals.
"When I first learned about the lives of sexual slavery these women were facing each and every day, I was moved to do something to make a difference," said Ken Petersen, founder of 3Strands and owner of the Apricot Lane Boutique franchise. "AIM is doing an incredible job rescuing young girls and women from the grips of human trafficking. Their rehabilitation center is helping the survivors heal and our role is to give them sustainable, well paying work once they are ready to reintegrate into their culture with honor and dignity." Apricot Lane is the first retail partner to feature the 3Strands brand. Apricot Lane is known for West Coast, celebrity inspired fashions and accessories with over 100 stores operating in 32 states across the country since the company was founded in 2007 http://www.apricotlaneusa.com
The Agape Training Center (ATC) is a small jewelry and apparel training center unlike any other in the world. Instead of a factory life working 12 hour shifts in horrible working conditions, the women attend ATC for 8 hours each day. During that time they receive counseling and educational services as well as lunch and medical benefits. Their salaries are 3–4 times higher than what the typical garment factories located in Cambodia pay. This community, where rehabilitation meets vocation, is built upon respect and compassion for one another in a family environment.
While AIM manages the Training Center and creates the unique, handmade jewelry and apparel designs, 3Strands purchases the products from ATC to market and distribute the products through a chain of franchised women's fashion boutiques in the United States called Apricot Lane Boutique. In addition, jewelry and apparel are sold via e-commerce (http://www.3StrandsGlobal.com) and available wholesale to other retailers throughout the world looking to help support this cause.
AIM's proven and successful rescue and restoration process is being sought after in other countries, including the United States, and 3Strands plans to support AIM's growth globally through funds generated from product sales. 50% of profits from sales will help to fund Agape International Mission. http://www.3StrandsGlobal.com
ABOUT:
3Strands: Created by the founders of the successful and fast growing Apricot Lane Boutique franchise, Ken Petersen, Scott Jacobs and Tom Brady, 3Strands is a fashion brand created to fund the Agape Training Center (ATC) in Svay Pak, Cambodia. ATC teaches women over 16 years old skills to be empowered in the workplace and allows them to be financially stable after being rescued from human trafficking. At ATC, the women are paid a much higher wage than what is normally found in their country, attend school and also create the 3Strands brand. Human trafficking has been identified as the fastest growing criminal industry in the world, second only to drug trafficking. Agape International Missions (AIM) works to rescue these women from the horrific life they have endured and restore them. 3Strands symbolizes that the strength that comes when people and resources are intertwined together - a cord not easily broken that represents the Freedom, Love and Empowerment process that AIM provides. http://www.3StrandsGlobal.com
Agape International Missions (AIM): Agape International Missions (AIM) exists to see Christ, through His Church, defeat the evil of sex trafficking. In 2005, AIM focused its efforts toward ending this travesty in Cambodia with aftercare for rescued victims, humanitarian aid in communities and prevention efforts. Agape Restoration Center opened in August of 2006, providing long-term aftercare for rescued girls. In September 2007, AIM opened Rahab's House Community Center in a former brothel in the heart of a village where sex slavery is the norm for every girl by the age of 10. Since then, their holistic approach of fighting trafficking, restoring victims and transforming communities has expanded into multi-city projects in Cambodia and the United States, including Agape Training Center (ATC) where rehabilitation meets vocation for young women rescued out of trafficking. http://www.AgapeWebsite.org
CONTACT: SGPR GROUP
Rachael Lange
Rachael(at)SGRPGroup(dot)com
c. 215.480.0007
Stacey Graham
Stacey(at)SGPRGroup(dot)com
c. 310.343.0451