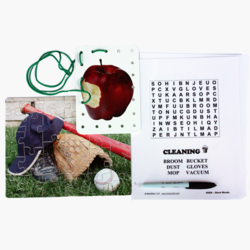 I love how the MindStart activity products can be used for all levels of dementia - Recreation Therapist.
Minneapolis, MN (PRWEB) August 14, 2012
There are 5.4 million Americans living with Alzheimer's disease or other forms of dementia (Alzheimer's Association 2012 Facts and Figures). Care-partners who help as the person declines, may include family members, friends, home health aides, and church clergy or volunteers. One of the challenges care-partners face is finding Alzheimer activities that are appropriate, allowing the person to stay cognitively stimulated and active.
Family members and friends watch their loved one lose the ability to do previously enjoyed activities. Communication also becomes difficult, as the person starts to forget names, faces, and past events. Health care workers and volunteers do not know the person's history, likes and dislikes, and have a short time frame into which to try activities with the person. In addition, they see various individuals all at different stages of dementia, so that what works for one, may not work for another.
The MindStart Visiting Kit offers solutions for all types of care-partners of individuals with dementia. MindStart is the only United States' company to offer a line of original Alzheimer activity products. The activities are designed by a dementia-care occupational therapist to provide simplified, yet dignified, activities that are adaptable for different stages of dementia.
The Visiting Kit includes: 1 MindStart Look and Lace card with lace; 8 different, MindStart laminated (re-usable) Word Searches at two different levels of ease and wet erase marker; 1 MindStart 26-large piece puzzle (from a choice of 7 designs); a carrying binder; and a user guide.
The kit is easy to transport and easy for care-partners to use to allow engagement in appropriate, adapted, dementia activities. The user guide that is included describes how to use the various kit activities for individuals at early, middle, and later stages of dementia. This allows all care-partners, whether family, friend, or health care worker, to help communicate and engage with individuals with dementia.
For home care companies, MindStart does offer quantity discount pricing, allowing an affordable option for each health care worker to have their own Visiting Kit. Home care companies can maximize their quality of care and set themselves apart by having staff that is equipped with dementia-specific activity tools that will help to cognitively stimulate and engage their dementia clients.
Research continues to show that doing activities provides a beneficial effect on the memory and thinking abilities of people with dementia. This is a benefit that is at least as good as medications, if not more so (2012 Cochrane Review of Dementia Research Studies). By helping care-partners find tools to easily engage individuals with dementia, such as the MindStart Visiting Kits, their rate of cognitive decline can be slowed and their quality of life can be improved.
MindStart is a small, family owned business, started by an occupational therapist to provide activities for individuals with Alzheimer's disease or other dementias, while providing support and education for caregivers. MindStart works with dementia care experts and USA companies to design and manufacture adapted, yet dignified, activity products that are based on common hobbies and themes of everyday life and that provide cognitive stimulation for every stage of the dementia disease process.