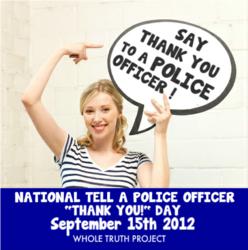 We want people to show their appreciation for the job that the brave men and women of law enforcement do every day
(PRWEB) August 21, 2012
The men and women who comprise police departments across the country put their lives on the line daily to protect and serve their communities—yet too often police officers get a bad rap, according to The Whole Truth Project, an organization with a mission to support law enforcement officers by promoting a pro-police message.
On September 15, 2012, the project will kick off its inaugural nationwide Tell A Police Officer "Thank You" Day. The goal: a big show of support for police officers across the country. Citizens are being encouraged, on September 15, to take a moment out of their day to show appreciation for their local law enforcement officers through small acts of gratitude--or by simply saying "thank you."
Businesses are also urged to participate by donating something like a free cup of coffee, or breakfast, to police officers or to local police departments.
"We want people to show their appreciation for the job that the brave men and women of law enforcement do every day," said attorney and project founder Andrew Hale of Andrew M. Hale & Associates. "Having represented police officers for several years, I know the difficult job these men and women undertake every day and I think we often take our police officers for granted. We must show support and appreciation for those that serve and protect us."
Hale, whose Chicago-based law firm has represented police officers in numerous high profile cases, points out how media reports of officer wrongdoing are usually not the whole story and tend to unjustly taint the hard work and dedication of the vast majority of police officers.
"A few 'bad apple' police officers do not spoil the whole tree. The overwhelming majority of police officers are dedicated and hard-working," Hale said.
The Whole Truth Project is currently recruiting volunteers across the country to act as local "team captains" to help promote National Tell a Police Officer "Thank You" Day and to get citizens and businesses involved in showing appreciation for their local police departments. Those interested should visit The Whole Truth Project Facebook page for more information.
About The Whole Truth Project:
Founded by Andrew Hale of Andrew M. Hale & Associates, The Whole Truth Project is dedicated to protecting innocent police officers, wrongfully accused of police misconduct in wrongful conviction lawsuits and other civil rights cases.
To find out more about our mission or to get involved, visit ahalelaw.com, join our nearly 20,000 followers on Facebook and follow us on Twitter: @wholetruthproj.
Contact:
Andrew Hale (312) 870-6926
Ahale (at) ahalelaw (dot) com