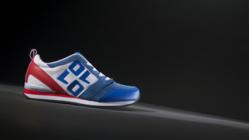 It is unquestionable, that this OLLO experience in Los Angeles will provide 5 backers with design insights, and inspiration that may change their lives forever
Los Angeles, CA (PRWEB) August 14, 2012
OLLO, developer of state of the art parkour and freerunning shoe, the OLLO Sapien, announced it's new Kickstarter pledge level offering five (5) lucky backers a memorable footwear design experience sure to enhance any art and design education, or simply be the dream opportunity for every sneakerhead.
Parkour (PK) is one of the fastest growing physical disciplines and non-competitive sports that focuses on efficient movement around obstacles. The main purpose of the discipline is to teach participants how to move through their environment by vaulting, rolling, running, climbing, and leaping. Parkour practitioners are known as "traceurs", with their female counterparts referred to as "traceuses". Source (Wikipedia).
"OLLO shoes are going to hit shelves Fall 2012, be a Kickstarter backer and get them first!" Said Craig Zacheis, Co-Founder OLLO.
"It is unquestionable, that this OLLO design experience will provide 5 backers with design insights, and inspiration that may change their lives and career paths forever. Interestingly enough, we've put this enriching experience together in a way that money can buy." Said Chip Howes, Co-Founder OLLO.
OLLO will fly up to five (5) Kickstarter pledge backers from anywhere on the planet to Los Angeles where each will hang out with the OLLO team, go on urban adventures with OLLO's team of traceurs, and contribute to the design of the next OLLO shoe. On this five-day trip, each backer will be fully immersed in the world of footwear design while enjoying a memorable cultural experience in Los Angeles. Backers will be guided through the footwear creation process and contribute to the next OLLO shoe design alongside master OLLO creatives Craig Zacheis, a graduate of The College for Creative Studies in Detroit, Michigan. Chip Howes, a graduate and sometimes professor at the Art Center College of Design in Pasadena, California. And Soren Nielsen, a graduate of the Danish Media School, specializing in research and communication. Craig, Chip and Soren are recognized for their footwear design and product development work for many of the major action sports brands including Burton, Gravis, DC Shoes, O'Neill, Reef, Royal Elastics, World Industries and more over the past 15 years.
Go here to be an OLLO backer, it's easy! http://kck.st/QuDwPl
About OLLO:
In 2010 Craig Zacheis, Soren Nielsen, Chip Howes and Tom Howes, a group of Powerline 6 Design alumni, created a developmental forum to look further into the sport and culture of parkour and freerunning. Having done high-level footwear design and product development work for many of the major action sports brands including Burton, DC, O'Neill, Reef, and others for the past 15 years, they felt that they had found the final frontier. Parkour is a superhuman activity that requires no lift ticket, no boarding pass, no equipment. Just a pair of shoes that work and a desire to overcome obstacles. OLLO is committed to developing the right footwear for parkour and participating in the growth and positivity of this movement.
Connect with OLLO on Facebook: http://www.facebook.ollopk
For more information about Parkour and freerunning, product reviews, or to schedule an interview with OLLO product designers Craig Zacheis or Chip Howes, please contact Gregg Witt at (619) 342-6482, or Gregg(at)premisemarketing(dot)com