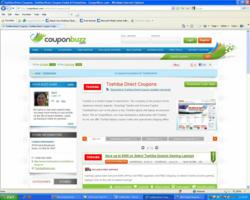 It works like a double coupon, something consumers always love.
Houston, TX (PRWEB) August 14, 2012
Most online shoppers know that one of the best ways to save money on a new laptop purchase is to wait until an online retailer offers significant money back in instant savings. But extra-smart online shoppers wait for a something like the new Toshiba coupon code featured today by CouponBuzz.com, which combines instant savings and cash value. This specific code is input at checkout, and gains consumers an additional $30 dollars off the price of the laptop, even after the $100 dollars of instant savings currently being offered on this model laptop are applied. Today's Toshiba coupon code for $30 dollars off the Satellite L850 laptop can be accessed in CouponBuzz.com's Toshiba section, dedicated to special offers from the electronics retailer.
In addition to finding coupon codes to multiply their savings, online shoppers can use CouponBuzz.com to find out which stores have current sales, which deals include free shipping, and which offers will expire soonest. Site visitors who are browsing through the offers on CouponBuzz.com can find more information about specific coupons by navigating to the merchant's web page where the coupon is featured, and reading the short description of how the coupon works and what exclusions may apply.
"We always enjoy featuring a coupon like the Toshiba coupon code that made the top ranks of our Toshiba section today," said CouponBuzz.com founder Justin Bowen. "In addition to a coupon offer of $100 dollars in instant savings, applying the code at checkout takes yet another $30 bucks directly off the price. It works like a double coupon, something consumers always love."
The Toshiba Satellite L850 laptop is fully customizable by the consumer to meet their desired specifications. These include selecting an Intel Core dual-core processor ranging from an i3 2.4 GHz to an i7 3.3 GHz (with TurboBoost technology). Memory comes standard at 6G DDR3 SDRAM, but can be upgraded as high as 16G. Hard drive space can be as massive as 1 TB (for the upgrade fee) but is definitely sufficient at the standard 500G. A DVD blu-ray or dual layer drive, and a 6 cell lithium ion battery complete the general specifications. For full details on the Satellite L850, and to access today's featured coupon code, check out the Toshiba coupon section at CouponBuzz.com, here http://couponbuzz.com/toshiba-direct-coupons.html.