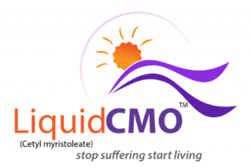 CMO acts as a joint lubricant, analgesic (pain killer) and anti-inflammatory, and regulates immune system function.
Phoenix, AZ (PRWEB) August 15, 2012
Arizona-based nutraceutical company, LiquidCMO Inc., has produced the first fully-emulsified natural blend of liquid cetyl-myristoleate. The proprietary LiquidCMO was used in a 2010 clinical pilot study on patients with clinically-diagnosed fibromyalgia. The results from the study were published in the July issue of Naturopathic Doctor News & Review, an international peer-reviewed medical journal.
LiquidCMO is a proprietary blend of cetyl myristoleate (CMO), MSM and L-glutamine (an amino acid). Cetyl myristoleate, the active ingredient in LiquidCMO, is a natural long-chain fatty acid found in fish oil, whale oil and beef fat (tallow). Fatty acids are the individual components of oils in the same way that amino acids are the building blocks of proteins. Polyunsaturated fatty acids, such as linotenic acid and linolelic acid, are crucial to life and are called essential fatty acids (EFAs). Research shows that CMO appears to have the same beneficial characteristics as the EFAs, however, it is stronger and the benefits — including relief for fibromyalgia — are longer lasting. CMO acts as a joint lubricant, analgesic (pain killer), anti-inflammatory and adaptagenic immunomodulator (regulates immune system function).
The major findings of the recent LiquidCMO vs. Fibromyalgia study were dramatic improvements in physical, mental and emotional function. Overall improvements in every area of health that was measured were profound and unexpected. Personal accounts by LiquidCMO users state stiffness, pain and swollen joints have decreased or vanished. After subjective and statistical analysis of the study data were analyzed, all 18 subjects showed marked improvements in all eight measures calculated by SF-36 General Health Questionnaire.
All clinical pilot study participants were medically supervised by David Arneson, NMD, medical director of the Source Naturopathic Medical Clinic and adjunct clinical instructor of Naturopathic Medicine at the Southwest College of Naturopathic Medicine and Health Sciences.
Fibromyalgia syndrome is a complex, chronic condition of widespread muscular pain and fatigue and one of the most common chronic pain conditions (source: National Fibromyalgia Research Association). The primary symptom of fibromyalgia is chronic widespread body pain. Most people with fibromyalgia also experience moderate to extreme fatigue, sleep disturbances, sensitivity to touch, light, and sound, and cognitive difficulties.
The disorder affects an estimated 10 million people in the United States and an estimated 3 percent to 6 percent of the world's population. It affects women approximately nine times more than men. Prominent fibromyalgia researchers and specialists estimate the medical costs (2007) associated with fibromyalgia treatment in the United States between $12 billion to $14 billion annually and accounts for a loss of 1 percent to 2 percent of the nation's overall productivity.
To view the entire study, graphs and charts, or to obtain more information, visit http://www.liquidcmo.com.
About LiquidCMO, Inc.
LiquidCMO has one simple mission: To provide health-conscious consumers access to top quality pain management and immune system related supplements with built in value, at affordable prices. For more information visit http://www.liquidcmo.com or call (877) 734-4261.