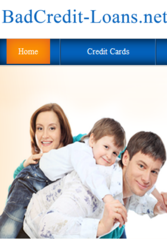 There are millions of Americans in exactly this situation and they can't find the help they need from their bank or even the local credit union.
Atlanta, GA (PRWEB) August 22, 2012
Having a poor or even bad credit score used to mean a financial dead end. None of the high street banks and credit unions typically want to lend to borrowers with a weak credit history, and as a result, the very people who tend to need money the most are increasingly being shut out of the credit options and financial products they need.
It's a growing problem for the millions of Americans who live paycheck to paycheck monthly. With no significant savings of any kind, any type of out of the ordinary expenditure or emergency crisis becomes a financial headache as well. Even with the most careful budget, there are always unexpected situations and without a financial fallback position, life can get very stressful indeed.
A spokesperson for BadCredit-Loans announced today "It's important that efforts to continue to educate Americans about personal finance and what it means to be a responsible borrower, but at the same time we are seeing an increasing number of people for whom the reality is that they simply must take loans from time to time. Whether it is student debt, an automobile failure or even an unexpected dental bill, there comes a time for most of us when we need a place to turn for some ready cash. BadCredit-Loans.net is the place any American can turn to. All a borrower needs is proof of citizenship and they must be over the age of 18. If they are in regular employment with a paycheck that is deposited into a bank account biweekly or monthly then they can turn to us for loan approval via our extensive network of lending partners. Our lending partners specialize in loans for people with either a non -existent credit history, poor credit or even bad credit."
Having bad credit is not ideal. Efforts can and should be made to improve one's credit score and there are various ways to do that. Opening too many new credit accounts at one time negatively impacts a credit score, along with failing to make timely payments on accounts. Nevertheless, the days when a poor or bad credit score meant automatic rejection for a loan are now over.
The spokesperson for BadCredit-Loans continued "Our network of lending partners exists to find loans for people who are underserved when it comes to loans and other financial products. There are millions of Americans in exactly this situation and they can't find the help they need from their bank or even the local credit union. We understand that and have made thousands of dollars in new loans available for immediate access. Would-be borrowers simply need to visit the site, complete a simple online form and wait to be contacted by one of our lending partners. Funds can be deposited into the borrower's bank account within minutes – or overnight depending on the policies of the various banks involved in the transactions.
For more information and for bad credit loans - http://www.badcredit-loans.net/