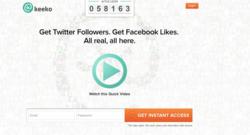 Ottawa, On (PRWEB) August 15, 2012
Much of the hullaballoo surrounding the Olympics includes audiences being dismayed over NBC's performance in their coverage of the London Olympics, the network apparently having excluded what is considered as among the most anticipated portions of the Olympics. Fans turned to social media to get updates, as well as to broadcast their disappointment, attaching the hashtag #NBCfail to their tweets. For those present in the extravagant closing celebration, many could not wait to upload videos, photos and news about the event. For Keeko users, the launch of a new feature on the website means a bigger opportunity for them to catch news, and share the last flames of this year's Olympic fever.
Users of the social media exchange site can look forward to posting their thoughts, photos and other updates and being able to share these to a wider market, as they will now be able to get Tumblr followers on Keeko. The launch of the new feature has been slated for this week. The official update can be found on their webpage.
In the event of any lack of event coverage, social networks have become the go-to media everywhere around the globe. Many times in the past, social media has assisted not just in updating audiences on entertainment, but in keeping them abreast of social and political happenings, such as when traditional media have been controlled by government in certain areas.
Keeko opens up more opportunities for individuals to connect beyond the average number of followers per individual by supporting more social networks, Tumblr being the latest addition to its roll of supported social media.
Other than Tumblr, Keeko also supports Google Plus, Twitter and LinkedIn.
For more information, netizens can visit http://www.keeko.com. To sign up, interested individuals need only to provide their email address and a secure password. After which, users can then begin to earn points by following other social media accounts. Points can be redeemed in the form of followers and shares.
Other updates and news from Keeko can also be found on Twitter.
About Keeko
Keeko is a wholly owned company by Clicking Labs. With dedication and perseverance they were able to bring together a diverse team of web professionals to provide internet businesses with creative web marketing strategies. Founded in Ottawa, Canada, the company has expanded operations to Cebu, Philippines in early 2011 to better serve its clients.