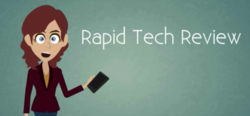 Rumors have been circulating around the release of Apple's new iPhone
Los Angeles, CA (PRWEB) August 14, 2012
Tech blog Rapid Tech Review announced that they just released the second episode of their series of animated web videos on YouTube and other channels. The animated series is made to introduce users to the blog's different features on emerging technology and tech news.
The animated video for Rapid Tech Review was launched along with the announcement and is now available for viewing on YouTube. The video features a young female that introduces the website and its many features.
The animated video features news on the rumor's Apple's new dock connector for the upcoming iPhone 5, and what it means for older Apple devices. The following is an excerpt from the video's accompanying post:
"Rumors have been circulating around the release of Apple's new iPhone, among which include a larger screen and a new design, but what could turn out to be the most significant change is Apple's rumored new dock connector."
Say Goodbye to the 30-pin Connector
"Apple's 30-pin dock connector has been a staple since it was traded in in favor over FireWire in 2003. Since then, the 30-pin connector has enabled iPods, iPhones and iPads to communicate with other devices, such as speaker docks and other iPhone peripherals. The new connector could render those peripherals obsolete."
This week's new animated video episode was created by the site's web management company Impact1, which also handles the site's daily operations, content management, and online marketing.
About Rapid Tech Review
Rapid Tech Review is a tech and gadget blog that features news and reviews on emerging and new technology, gadgets and games. The site also features informed and detailed analyses of current and future technology. Rapid Tech Review puts a focus on lesser known brands and technology that may be left out of other tech and gadget blogs.
###