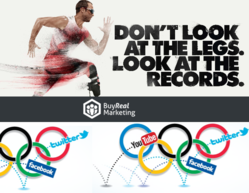 Ottawa, ON (PRWEB) August 14, 2012
After the excitement generated from the recently concluded London 2012 Olympics, Buy Real Marketing is set out to add online buzz to the upcoming sports event for the special Olympic athletes, the London 2012 Paralympics.
According to The Guardian, this year's Paralympics will bring about 42,000 athletes from 165 nations all over the world to London. Seats are expected to be full, after 2.1 million tickets were snapped by the public, mostly from audiences who missed the action of the London 2012 Olympics. Buy Real Marketing has witnessed firsthand, Twitter users eager to learn about London 2012 Paralympics tickets for fear of not being able to grab the remaining 400,000 tickets.
Buy Real Marketing, the leading provider of web 2.0 applications, has discovered the advantage of injecting marketing ideas and incorporating social media elements to current news and popular topics on the web to acquire traffic and new subscribers to their blog http://blog.buyrealmarketing.com/.
Breaking the monotony of traditional content strategy while preserving the target goals of marketing, Buy Real Marketing is resolved to cover London Paralympics, bringing news and updates in angles befitting fans and spectators, not reporters or sports analysts. Twitter followers of the company are big fans of Olympics, especially of the Golden Athlete, Michael Phelps. "We believe that Paralympics will have the same reception. Buy Real Marketing was able to provide our clients exceptional take on the Olympics, while receiving 50% more in traffic. We are determined to repeat the experience or even surpass it," states JP Bisson, Managing Director of Buy Real Marketing.
Expectations are raised in terms of increased engagement and interaction during the Paralympics, especially from Twitter followers and fans who are motivated to discuss highlights of the games and their favorite athletes.
Buy Real Marketing advocates the importance of engagement in boosting social media presence. The company primarily provides social media users the chance to buy Twitter followers, YouTube views, SoundCloud Plays and Vimeo views.
To know more about the company's services, visit their website at http://www.buyrealmarketing.com or contact them at 1-877-435-5955.
About
Buy Real Marketing is owned by Clicking Labs. Clicking Labs is a well-established internet marketing company founded in 2010 by Jean-Patrick Bisson, Diana Quartin and Jonathan Kennedy. The company specializes in driving search marketing and social media traffic, social web app development and conversion optimization. Each product or service specifically helps small/medium website owners increase online visibility and improve online sales.
###