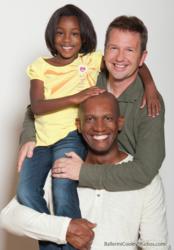 Penny Lane Centers is deeply committed to fairness and inclusion in its work with lesbian, gay, bisexual and transgender families.
Los Angeles, CA (PRWEB) August 14, 2012
Today, Penny Lane Centers signed on as the exclusive "Community Partner" of RaiseAChild.US in Orange County, CA. This agreement comes on the heels of a similar agreement between the two organizations in Los Angeles County, CA.
"Children of the foster care system are in need of safe, secure, and permanent homes. Penny Lane has now expanded to Orange County and is available and able to work with all prospective foster and adoptive parents," says Dr. Judith Sandino, LCSW, Program Director of Penny Lane Centers. "Penny Lane is uniquely qualified to work closely with the LGBT community because of our extensive training through Human Rights Campaign's "All Children – All Families" initiative of cultural competence."
RaiseAChild.US is working closely with the Human Rights Campaign Foundation's "All Children—All Families" (ACAF) initiative, which provides professional training and technical assistance for implementing inclusive policies and best practices for working with LGBT foster-adoptive parents. Penny Lane Centers earned its seal in 2010.
Rich Valenza, Founder and President of RaiseAChild.US says, "We are very proud and honored to partner with Penny Lane as they step forward as adoption and foster care leaders in Los Angeles and Orange Counties. Our two organizations share the goal of working in the best interest of all children and all families."
According to the U.S. Department of Health & Human Services' Administration for Children & Families, over 107,000 children in the foster care system are available and waiting to be adopted. Beyond that number, there are 300,000 more children in need of immediate foster placement. Certified families are in short supply.
RaiseAChild.US is a non-profit organization that encourages LGBT people to build their families through fostering and adoption. Its campaigns recruit and support prospective LGBT parents while putting images of LGBT families into public spaces through PSAs, print media and outdoor advertising. Over the past 18 months, RaiseAChild.US has run three campaigns in Los Angeles, engaging over 500 prospective parents, with 400 attending recruitment events. Penny Lane Centers is committed to helping strengthen troubled families and to finding loving, safe adoptive homes for children. Many of these families will be identified through the upcoming RaiseAChild campaign in November, National Adoption Awareness Month.
Penny Lane Centers was founded in 1969 and cares for abused and neglected children and youth by providing therapeutic residential services and education for teenagers, foster family home placements, adoption services, community based support for families, transitional housing for young adults and outpatient mental health services for children and youth.
"Penny Lane Centers is deeply committed to fairness and inclusion in its work with lesbian, gay, bisexual and transgender families," said Ellen Kahn, Project Director for Human Rights Campaign. "Penny Lane's staff worked tirelessly in their effort to earn the "All Children—All Families" seal of recognition, which clearly illustrates the high value they place on LGBT adoptive parents. Their superb example will lead to more children being placed in permanent, loving homes."
To date, ACAF has over 50 participating agencies across the country and has awarded 18 seals of recognition. Last year HRC launched a "50 state strategy," with the goal of securing at least one ACAF-recognized adoption agency dedicated to working with LGBT families in every state. More information about the initiative can be found at http://www.hrc.org/acaf