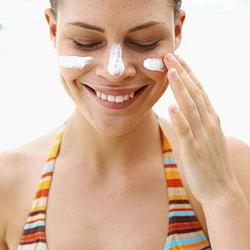 Skinstation is a Jersey based company dedicated to providing their customers with the best prescription skincare products on the market today.
(PRWEB UK) 14 August 2012
It seems that we wait for the summer to come around all year, only to complain about the inevitable sunburn and dull, dry looking skin that it brings. It's no secret that the cosmetic industry has still seen growth during these turbulent economic times as new, innovative developments seek to reverse the damage we do to our skin through exposure to harmful pollutants and UV rays, and people all over the world seek to retain their youthful appearance.
Skinstation are experts in the field of cosmetic dermatology, and have offered this helpful advice for maintaining your bright, young looking skin in the sun.
1. Cover Up
This is probably the most crucial thing you can do in the summer months. Although practically everybody wants a nice tan, by being overly ambitious and bearing all straight away, you could end up doing significant, lasting damage to your skin. Always wear a high SPF sun screen and expose your skin to the sun gradually. This way you will avoid sunburn and the problems it can bring, and end up with a nice, even tan without doing too much damage.
2. Moisturise Thoroughly
After a day in the sun, you should make sure that you moisturise with aftersun or suitable moisturising cream to restore and replenish your skin. Exposure to the sun is extremely dehydrating and can cause your skin to look and feel dry but a good aftersun or moisturiser will help to alleviate this. Moisturisers containing cocoa butter are good for retaining tans, and those containing aloe vera will help to soothe sunburnt skin.
3. Seek Shade
During the hottest parts of the day (between midday and 3pm) try to seek shade. It is at this time that the sun is at its strongest and can cause the most damage to your skin. Although you may be tempted to stay outdoors, use this time to rehydrate indoors or in the shade and drinking plenty of fluids to prevent sun stroke. Take a break – your body will thank you for it!
4. Ask for Advice
The harmful effects the sun has on the skin weren't so widely known until recently – just forty years ago, women all over the western world were applying oils to their skin believing that it would give them a glowing, healthy looking tan. Obviously now, we know that this is not the case, but many women are still suffering from the aesthetic effects of sun damage. If you would like a treatment that will help to reduce the appearance of sun damage, then you should speak to your doctor or aesthetic practitioner about treatments that are suitable for you. Companies such as Obagi have been prevalent in the field for a number of years and there are a large number of products available on the market today which can help to rejuvenate your skin making you look and feel younger and more confident.
Skinstation is a Jersey based company dedicated to providing their customers with the best prescription skincare products on the market today. With over 60 years combined clinical experience, their team take the time to hand pick all their products, assuring the customer of the utmost quality.