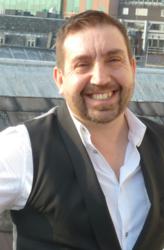 It's simple... Good people get good jobs
London, UK (PRWEB UK) 15 August 2012
FOR IMMEDIATE RELEASE
Superstars founder Steve Hutson returned to Colourful Radio on Tuesday morning to join presenter Juicy Jaxx on her show, Life With Juicy Jaxx.
Steve had a few weeks' break following his series of careers advice sessions on Jaxx's show. Now he is back, post-Olympics, refreshed and ready to help listeners with their career goals. Steve returned to a huge round of applause to talk about the job market in the wake of the London 2012 Games.
"I think the Olympics has had an extremely positive effect on the job market," Steve told Jaxx. "There has only been a slight increase in new jobs - around 61,000 people, according to the latest figures - but the actual figure was closer to 130,000, because 70,000 of those people were volunteers. We have around 70,000 people out there who are excited by being part of this energy and now feel that they have worth."
"It's really simple," Hutson continued, "It's the British population. Good people get good jobs and the British population are hundreds of thousand of good people who are going to get good jobs."
Steve was able to confirm that he will be back at Colourful for 'Season 2' with Jaxx.
"Season 2 is all about Talent and their stories and some of the products we are launching to help them," he told Jaxx. "We are going to go on a Talent journey and look at how people get their roles and we have some interesting people for you to meet who are doing something very, very different. "
Before he left, Jaxx asked Steve about something that happened to him as a result of 'Season 1' - getting to meet up with some Colourful listeners for some one-to-one advice.
"It was incredible," Steve told Jaxx, "They were both absolutely fantastic. I spent a good hour to hour and a half with each of them. They both come from very different backgrounds.
"One was a fantastic freelancing legal secretary who also did charity work. We were able to talk about the skills that she had developed and I was able to give her some advice about becoming a legal secretary in Digital that will hopefully help move her forward.
"The other lady was quite senior in Content and doing extremely well. She could quite easily have jumped into another role. We were able to get her the confidence to do that and use some of the exercises we have talked about on other shows to identify what was making her happy or unhappy so we could build a profile of the way she should go in the future."
Steve Hutson returns to Life with Juicy Jaxx on Tuesdays from 11:30am where he will be discussing jobs, recruitment and more. Listen again to last week's show here: http://superstars.posterous.com/stevie-returns-to-colourful-radio
Superstars is based on a unique new staffing model that eliminates fees and margins forever. Clients work with Talent Managers to get the best staff for their needs and the Talent get amazing opportunities and the best support and mentoring in the industry.
Superstars' clients include BSkyB, Orange, Infosys and Radical Company with more being added all the time.
To find out more about Superstars' unique staffing model and how it can transform the way you hire staff, contact Steve Hutson - steve(at)homeofsuperstars(dot)com or visit http://www.homeofsuperstars.com