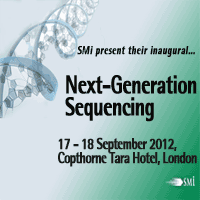 London, UK (PRWEB UK) 15 August 2012
SMi are delighted to confirm Elia Stupka, Co-Director and Head of Unit, Center for Translational Genomics and Bioinformatics, San Raffaele Scientific Institute, as a speaker at their forthcoming Next-Generation Sequencing conference.
Dr. Stupka's pioneering work emphasises the genome as a comprehensive entity in health and disease, rather than specific fields such as genetics and gene expression per se. Through rigorous data analysis and interpretation, the role of genetics, epigenetics, gene expression and genome conformation is being elucidated to aid clinicians. Excitingly, his work goes beyond traditional case control studies to include familial cases of complex disease.
Dr. Stupka's contribution consolidates a focus on data analysis and interpretation to develop improved therapies for human inherited and acquired diseases. Attending will enable you to:

Generate longer nucleic acid and oligonucleotide sequences of higher quality
Increase consensus accuracy and genome coverage
Maximise the alignment and assembly of NGS reads with reference sequences Enhance signal-to-noise measurements in real-time sequencing
Utilise exomics to elucidate gene families implicated in disease or pharmacogenetic effects
Improve mapping in repetitive regions when resequencing
Catalogue the transcriptomes of cells, tissues and pathogens
Perform quantitative applications more effectively with third generation platforms
Clarify analysis requirements prior to epigenomic studies
Visit http://www.smi-online.co.uk/goto/next-generationsequencing45.asp to secure your place now!
Alternatively, contact Alternatively Contact Fateja Begum on telephone +44 (0) 20 7827 6184 or email on fbegum(at)smi-online(dot)co(dot)uk.
About SMi Group
The SMi Group is a world leader in business to business information. With nearly two decades in the business, thousands of senior executives from blue chip companies have already benefitted from SMi's highly targeted conferences, workshops and publications. For more information visit http://www.smi-online.co.uk/goto/next-generationsequencing45.asp.