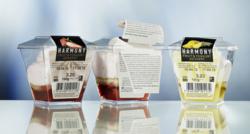 The functionality of the label was the key to its success
(PRWEB UK) 15 August 2012
The label that gained the award was made for 'Harmony Fruit and Yoghurt Dessert' a product of Jowa. By working closely with the manufacturer Pago provided a multilayer and multi functional label that suited their labelling requirements. The label was shaped to the packaging and was applied directly on to the product on the production line. The 6 page colour booklet was made from FSC standard materials that guarantee the paper used is from sustainable sources.
The functionality of the label was the key to its success. To ensure product security a tamper resistant seal was added over the packaging closure to certify that it is the genuine produce. The multi layer label meant that on five internal sides a number of different sets of information such as ingredients, nutrition and allergies could all be affixed clearly on the same label. The quality folding booklet can be opened and closed a number of times and the label can be removed from the product after use for easy re-cycling. The front side decoration and further price information were applied using Pago thermo printing.
The range of design and functional options that Pago can add to a product mean that it can both stand out on the shelf and provide the product with more ways of putting across information to the customer. Pago's commitment to labelling excellence has been confirmed by this award and looks forward to future challenging projects.