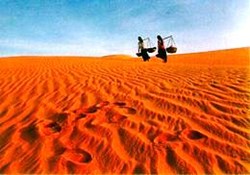 Just spending $158 - $319, tourists can enjoy a great tour on Mui Ne Beach in 4 days and 3 nights, departing from Ho Chi Minh City
(PRWEB) August 14, 2012
On its 5th anniversary, Smile Travel Vietnam launches many special promotion programs. Among them, tour packages are offered with the big discount of 35%. Especially, tours in Mui Ne, Phan Thiet are getting more and more attractions from international tourists as this place has been the dream land of many foreign travelers for ages.
Phan Thiet is the largest town in Binh Thuan province, 200 kilometers from Ho Chi Minh City, Vietnam. It has long been known as a wonderful tourist attraction with the clear sky, blue sea, and abundant sand. Like a gift of nature, it also has fresh sea breeze, swingy coconut trees, and romantic landscape. Therefore, Phan Thiet is an ideal destination for those who want to escape from the bustle and busy life, especially for couples, families, and friends.
Once coming to Phan Thiet, tourists will have chances to discover Mui Ne, one of the most beautiful places in Asia. Mui Ne has the finest weather in Vietnam, enchanting tropical beaches lined with swaying palm trees, immense sand dunes meandering for kilometers through colors of red, yellow and white, winding rivers teamed with fresh fish and crabs, tall mountains with bamboo rainforests, pristine waterfall. Owning such outstanding treats, this place has attracted a large number of domestic as well as international tourists. Indeed, visitors fall in love with spectacular scenery of dunes which are formed by wind. Furthermore, they seem to sink in the unique beauty of clouds and sea. It must be the most awesome experience ever if tourists climb up smooth sandy hills on bare feet or diving crown from the top of the hills on boards. It is said that Mui Ne is the perfect combination of the sun, Sahara Desert and Pacific water.
Besides, Mui Ne is the biggest resort area of Vietnam in the recent years. Doi Cat (Sand Hill) in Mui Ne has long been a creative subject of artistic photographs and paintings. There are also beautiful landscapes such as Suoi Tien (Fairy Spring), the Vestige of Ong Hoang Palace and the Cham Towers. All builds up a wild attraction, inviting tourists to this well-known field resort. The streets here are lined with colonial villas. For golfers, this place offers one of the best golf courses in the region. The availability of the huge amount of fish makes it a perfect place for the excellent production of fish sauce. Mui Ne has long been considered as Hawaii of Vietnam – the paradise of recreation and health improvement on vacation.
There are multiple choices for tourists when they book tours here. The time is ranged from 1 day to 15 days, depending on different packages. Just spending $158 - $319, tourists can enjoy a great tour on Mui Ne Beach in 4 days and 3 nights, departing from Ho Chi Minh City. For more details, customers can pay a visit to the website of Smile Travel Vietnam provided