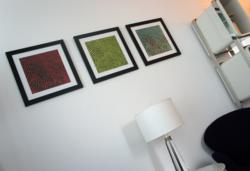 Fingerprints, lip prints, baby prints, FingArtPrint can print on a canvas, high-end plexi or a poster!
Toronto, ON (PRWEB) August 15, 2012
FingArtPrint is pleased to announce the launch of our new product line of Fingerprint, Baby Footprint, and Lip Print. FingArtPrint creates the ultimate in personalized genetic art. FingArtPrint is excited to offer our customers the unique experience of transforming their prints into an art masterpiece. Any one of our products is a perfect gift solution for any occasion. Why not relieve all that stress of trying to find that perfect gift for a unique, original, modern, and timeless gift idea from FingArtPrint.
At FingArtPrint, we offer our customers a wide range of options and choices. In terms of design, FingArtPrint allows you to transform your prints into art a number of different ways. We offer our customers a choice of three framing options to choose from: Canvas, Plexi and Framed Print. If you do not want your piece to be framed, you can request just a poster. Moreover, we offer different sizing options for each product. There is also a range of colours to choose from.
Fingerprint: An individual's fingerprint is miraculously unique. Therefore, creating an art piece entirely based off a fingerprint is the epitome of personalized art. At FingArtPrint, that is exactly what we offer. We transform your distinctive fingerprint into a piece of art that will hang proudly anywhere from your office to your bedroom. It is the perfect way to 'personalize' a room.
Baby Footprint: Besides being beautiful and simply remarkable, the first thing that comes to our minds when thinking of a baby is the words small and delicate. However, a baby does not stay a baby and most importantly, a baby does not stay small and delicate. We at FingArtPrint are delighted to give you the option to capture your child's first moments on Earth by transforming their small and delicate baby foot prints into exquisite art pieces. By purchasing a Baby Footprint Kit, you will forever have an image of your child's earliest footprints.
Lip Print: For all the women out there, here is your chance to leave a sexy impression. FingArtPrint is now giving you the option to capture a print of your lips and transform them into your own personalized piece of art. Give your Lip Print portrait to your partner as a sexy reminder of your presence, or simply purchase it for yourself and hang it in your home for the world to see.
The process for the customer consists of three simple steps: The customer first chooses a product and design to match from our online shop – or at anyone of our partnered stores. The customer then places the order and then receives a print collection kit. Lastly, the customer sends their sample back and FingArtPrint transforms their print into an art masterpiece. Transforming prints into art is a very simple process. The samples we get from our customers are first enlarged and then scanned and printed according to the customers purchase. Once this is completed, we send your unique masterpiece to you.
Everything is Made In Canada! Our Canadian-based company is fundamental in offering our customers an efficient and fast turnaround. Moreover, this greatly reduces the shipping costs for our Canadian customers. At FingArtPrint, we wanted to bring an original and affordable gift idea for any occasion, and most importantly, we believe we have accomplished this. How exciting is it, knowing that a gift from FingArtPrint is truly unique, original, but also modern. You really cannot go wrong with FingArtPrint!