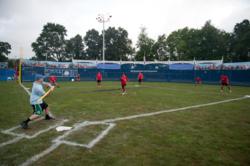 North Providence, RI (PRWEB) August 14, 2012
On Saturday, August 11, athletes of all ages took part in a sporting event unlike any other. After a full day of Wiffle ball competition, festivities, and special guests appearances, the SLAMDiabetes Rhode Island Classic raised nearly $16,000 to fund public awareness campaigns for Type 1 Diabetes (T1D), camperships to Camp Surefire for children suffering from T1D, and critical research to find a cure for this lethal autoimmune disease.
Rhode Island Classic games were played in patented replica stadiums "Little Fenway Park" and "Little Yankee Stadium," the latter of which made its debut at the North Providence tournament. Tournament festivities also included a kids' batting derby, food from local vendors, special activities for kids, raffle of sports memorabilia, and a midday Home Run Derby pitched by former Red Sox pitcher Dennis Ray "Oil Can" Boyd which included 53 participants, the most ever for a SLAMDiabetes derby.
North Providence Mayor Charles A. Lombardi threw out the ceremonial first pitch and read a proclamation marking August 11 as SLAMDiabetes Day in the Town of North Providence. Other notables on hand included Rhode Island Secretary of State Ralph Mollis and Paws, the mascot of the Pawtucket Red Sox.
"The Rhode Island Classic was a huge success," says Jeff Kolok, founder of SLAMDiabetes. "Everyone had a great time, and we raised a significant amount of money that is going to help make life easier for kids suffering with T1D."
The tournament was won by Anthony's Crusaders, who took care of business against the Bristol Blues, capping their tournament run with a dominant 7-0 performance in the final game. The Most Valuable Player honor was awarded to Matt Cariglio of Anthony's Crusaders.
The Rhode Island Classic capped off a successful summer season of Wiffle® ball for SLAMDiabetes, with four tournaments in three states. The 2013 season will kick off in February and will reach more cities and Wiffle® ball fanatics than ever. Upcoming tournaments are scheduled in cities from Florida to Vermont—all to raise awareness and funds to combat T1D.
Stay tuned to http://www.slamdiabetes.com, Facebook, and Twitter for announcements of celebrity guests, special activities, and important tournament announcements. You can follow SLAMDiabetes on social media at facebook.com/slamdiabetesnow and on Twitter at twitter.com/slamdiabetesnow.
# # #
SLAMDiabetes is working to raise public awareness of T1D (Type 1 Diabetes) through sports, entertainment and education while raising funds for camp scholarships for T1D kids and research for a cure. T1D is a lethal autoimmune disease that afflicts millions of children and adults. SLAMDiabetes works to make life safer, easier, healthier and longer for those with T1D. Let's SLAM T1D together! http://www.slamdiabetes.com