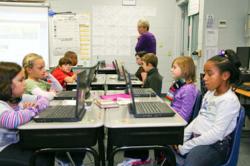 Lakewood, NJ (PRWEB) August 15, 2012
Achieve3000®, the leader in differentiated instruction solutions, and the Center for College and Career Readiness, creators of the Graduate level Common Core Black Belt Certification Continuing Education Courses, are pleased to announce a partnership offering called the Common Core Black Belt Classroom Certification for Teachers in Cross Curricular Literacy. The program is designed specifically for teachers, to prepare them to meet the demands of the Common Core State Standards and College & Career Readiness. It is an online, on-demand, college level course accredited through the University of Southern California Rosseter School of Education.
The goal of the Common Core Black Belt Classroom Certification is to ensure that teachers master the key foundational concepts for implementation of Common Core Standards in English Language Arts. To bring theory to practice, teachers receive an Achieve3000 teacher license to apply the concepts they've learned to the classroom. Achieve3000 solutions, which are Lexile-based and built on the premises of Common Core State Standards, provide a college & career focused routine, including thousands of differentiated non-fiction science and social studies assignments for teacher use.
According the Center Chairman Kevin Baird, Achieve3000's curriculum has been at the forefront of College & Career Readiness instruction for several years. "We have used Achieve3000 as a best-practice model for our graduate students studying College & Career Ready instruction for some time. We are pleased to bring this joint offering for teachers, building Common Core Mastery and providing hard-earned continuing education credits from a best-of-breed University."
Saki Dodelson, Achieve3000 CEO, noted that thousands of schools across the country choose Achieve3000's literacy solutions to accelerate their students' reading gains and ensure that they graduate school college and career ready. According to Dodelson, "Our partnership with The Center of College & Career Readiness allows us to meet the needs of districts and schools who require that their teachers achieve mastery of the new standards. The Center of College & Career Readiness' expertise in training educators, together with the practical application using Achieve3000 programs, is an effective way to build capacity and convert teachers to Common Core believers and experts. Additionally, by involving content area teachers, we are able to infuse literacy across the content areas."
Common Core Black Belt Certification is a best-of-breed skill mastery and organizational capacity building program based upon strategies commonly used for enterprise-wide change in the private sector. Offered both on-site and via on-demand online delivery, the Certification program currently trains nearly 2,000 education leaders in College & Career Readiness implementation strategies. Courses are accredited and students receive graduate level semester units.
Courses are currently enrolling for fall. Interested educators may contact Blackbelt(at)Achieve3000(dot)com to register.
About Achieve3000: For more than a decade, Achieve3000® has supported the individuality and potential of every student by reaching them where they are, and helping them reach higher levels of reading and writing proficiency. Our fundamental belief is that literacy unlocks achievement – and that the key to improving literacy is differentiated instruction. Today, Achieve3000 is the leader in differentiated online instruction, serving more than one million students across the United States. In 2011, Inc. magazine included Achieve3000 on its annual 500/5000 list for the fifth consecutive year, the exclusive ranking of the nation's fastest growing private companies. Based on decades of scientific research, Achieve3000 Solutions deliver engaging, nonfiction content that supports core curriculum, RtI, Special Ed, and other instructional models. KidBiz3000® (grades 2-5), TeenBiz3000® (grades 6-8), Empower3000™ (grades 9-12), and Spark3000® (for adult learners) are aligned with Common Core State Standards for ELA as well as individual state standards. Achieve3000 supports 21st century education initiatives across content areas. The company is based in Lakewood, N.J.
About The Center for College & Career Readiness: A non-profit research and training organization, the Center works globally to support the International Clearinghouse for Proctored College & Career Resources, hosts the annual Global Conference on College & Career Readiness, and produces graduate-level training and continuing education courses for educators, business and community leaders working to improve job readiness among the world's young people.