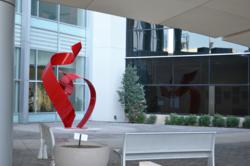 "The first six months of 2012 have been incredible; the best since I opened the gallery in 1986," said Paul Adelson, owner, Select Art.
Dallas, TX (PRWEB) August 14, 2012
Select Art, a Dallas-based private art gallery that specializes in contemporary art, recently signed seven art installation projects with five health care facilities, one energy company, and a law firm in the North Texas regional area. The noted firm is installing paintings, prints, and indoor/outdoor 3-dimensional sculptures to the respective organizations.
Select Art recently installed art pieces in health care facilities in the following North Texas suburban areas: McKinney (900) and Frisco (200). A facility in Southlake will soon receive 200 art items and a hospital in McKinney will receive 25 pieces. In October, Select Art will install 70 items in a Tyler medical facility.
In addition, a well-known energy company tapped Select Art for 177 art items and a national law firm has contracted with the gallery to install twenty pieces in its Dallas office.
Select Art's cross-section of art includes paintings, pastels, prints, sculpture, ceramics, glass, and photography. The gallery works with clients to determine art selections by both well-known and emerging artists that best meet their goals, image, design décor, and budget.
ABOUT SELECT ART
Dallas-based, Select Art is a private art gallery that specializes in contemporary art, including paintings, sculpture, hand-blown glass, 3-D wall art, and ceramics. Many of the gallery's clients are medical facilities, corporations, and hotels. Owner Paul Adelson, who has been in the industry for 25 years, is the epitome of art appreciation and creativity, "living" art in every aspect of his life. http://selectartusa.com/