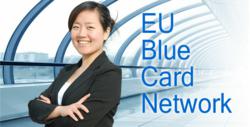 (PRWEB) August 21, 2012
The EU Blue Card makes Europe a more attractive destination for the highly educated from outside of the European Union (EU). This initiative is looking to use its distinctive qualities to help ensure Europe become the world's most favorable migration destination:

Working and salary conditions equal to that of EU nationals
Entitlement to a series of socio-economic rights
Favorable conditions for family reunification
Permanent residence perspective
Freedom of association
The Lisbon European Council in March 2000 set the Community the objective of becoming the most competitive and dynamic knowledge-based economy in the world, capable of sustainable economic growth with more and better jobs, and greater social cohesion.
Except for the U.K., Denmark, and Ireland, the entirely of the 27 European Union member states participate and promote the EU Blue Card initiative.
In order to obtain an EU Blue Card, a person needs a job contact with a European employer, be a non-EU national, and have a higher education qualification.
EU Blue Card Network facilitates an online portal where European recruiters connect with non-European nationals. For more information, please visit http://www.apply.eu.
Contact:
Michael Zwanenburg
T: +31.76.5083428
E: zwanenburg (at) apply (dot) eu