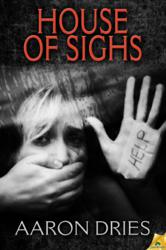 "The villains Dries creates are incredibly realistic and absolutely terrifying… [House of Sighs] will please any horror fan looking for an entirely unique, twisted tale." -- RT Book Review
Seattle, WA (PRWEB) August 16, 2012
International horror author Aaron Dries will be signing his debut novel, HOUSE OF SIGHS, at Third Place Books, 17171 Bothell Way, Lake Forest Park, WA, on Monday, August 27 (7 p.m.). The paperback version of the tale, a featured title of Samhain Horror, was released in July, 2012. Dries, who will be visiting from his native Australia, will also be signing special pre-release cards of his follow up novel, THE FALLEN BOYS, which is partially set in Seattle and the surrounding Washington area.
The award-winning HOUSE OF SIGHS is Dries' debut novel. It is the tale of a routine bus ride gone terribly awry:
It's the summer of 1995, and the passengers of the Sunday bus into town have realized that something is very, very wrong with their driver. They don't know that she began her day planning to kill herself. But they know that she's threatening to kill them. They began the ride as her passengers, but now they're her captives. She's already shown she won't hesitate to use that gun in her hand, and no one wants to be the next to die. They have no idea where she's taking them, who will be left alive when they get there, or what's in store for the survivors. With a madwoman at the wheel, the bus has gone far off its route, deep into insanity. And for most of the passengers, the next stop will be their last.
To learn more about this work and Aaron Dries, visit him online at http://www.aarondries.com.
Reviews of HOUSE OF SIGHS
"House of Sighs grabs you from page one and displays moments of real brilliance. It's fast, scary and disturbing." -- Nate Kenyon, author of Bloodstone and Sparrow Rock
"It totally blew me away … I have a new favorite author on my radar." -- David Bernstein, author of Amongst the Dead
"… A deeply unsettling book and a powerful debut. There isn't enough quality Australian horror fiction out there, and in the face of this, Dries proves himself an author to watch. " -- Hellnotes.com
"The villains Dries creates are incredibly realistic and absolutely terrifying… [House of Sighs] will please any horror fan looking for an entirely unique, twisted tale." -- RT Book Review
About Samhain Publishing
Launched in 2005 with a vision of bringing extraordinary fiction to compulsive readers (who sometimes can't wait for a book to actually be printed), Samhain Publishing® is an international publisher of eBook and traditional print fiction. One of the most prominent voices of original ebook fiction, Samhain represents some of today's brightest authors of romance and horror fiction. To learn why at Samhain "it's all about the story…", visit Samhain Publishing online at http://www.samhainpublishing.com.