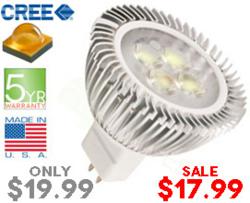 For the month of August 2012 the LA 2.0 MR16 LED light bulb is 10% off.
Brooklyn, NY (PRWEB) August 15, 2012
LED Waves has introduced an LED light bulb that is a <5 Watt replacement for a 35 Watt halogen MR16. The Los Angeles 2.0 distinguishes itself from similar products in the industry with its signature machined heat sink, its advanced Cree LEDs, the quality assurance provided by manufacturing in the USA, and a competitive retail price of $19.99. (Limited time sale price: $17.99.)
The LA 2.0 MR16 LED light bulb features a proprietary heat sink design, realized only through Computer Numeric Control machining. This process creates more surface area for air circulation within the standard MR16 diameter. As high temperatures are a major contributor to electronic component failure, this open-air design significantly prolongs the life of the LEDs inside the bulb.
Each LA 2.0 is built with an array of 4 XB-D chips from Cree, world-class leader in LED research and manufacturing. The XB-D is the latest development in Cree's SC³ Technology Platform. The name refers to a substrate made of silicon carbide, a highly conductive material that is more widely available than the sapphire traditionally employed in LED substrates. LED Waves' engineers have adopted this technology in an effort to make their exclusive products as cost efficient as they are energy efficient.
In-house production in the USA further drives down the costs of this LED light bulb, while also providing superior quality control. These factors work together towards the goal to accelerate the adoption of LED lighting, which has long been associated with cut-rate offshore manufacturing and high upfront costs.
In further consideration of this goal, LED Waves is offering a limited time discount on this low-priced product. For the month of August 2012 the Los Angeles 2.0 MR16 LED light bulb is 10% off. This discount may be combined with the free shipping promotion currently offered by the company. Visit LEDWaves.com for a complete listing of eligible products and terms. Wholesalers call 1(800)986-0169 for factory-direct pricing.