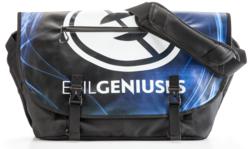 "SLAPPA's M.A.S.K. technology empowers customers to design the bag best suited to their needs"
Cris Bremner, Marketing Director
Charlotte, NC (PRWEB) August 16, 2012
SLAPPA, LLC maker of professional-quality cases, bags and backpacks designed specifically for laptop computers, cameras, gaming gear and tablets announced today that it has expanded its line of Custom-Build Transit Messenger Bags with the addition of designs to cater to fans of the world's most popular and successful pro-gaming teams, Evil Geniuses and FNATIC.
"These new Transit Messenger bags broaden the product ranges we offer for fans of the teams we sponsor," said SLAPPA Marketing Director Cris Bremner. "Now, along with the line of M.A.S.K. backpacks, KIKEN shoulder bags, and the Transit Messenger bags, fans have a wide range of choices and the ability to show support for their favorite teams."
The design principal with all of the M.A.S.K. products centers on the ability to empower customers to change the design of the bag. The flaps on the new Transit Messenger bags easily zip onto and off of the body of the bag, resulting in easy customization at any time. Now with one bag team fans can switch out the flaps based on the desire to promote the team of their choice and to sport other designs when they like. These are the very same team bags carried by both FNATIC and Team EG.
One reason why SLAPPA bags and backpacks are so popular with the gaming community is because SLAPPA builds its bags to accommodate larger gaming laptops and the highly specialized accessories used in gaming. SLAPPA looks at gaming as a serious sport, and understands the investment in gaming equipment is quite large, often exceeding $5,000, so the bags designed and manufactured by SLAPPA need to protect the investment of both professional and amateur gamers attending events and tournaments.
The Transit Messenger bag is roomy, and offers a dedicated laptop compartment that easily fits laptops up to 17 inches. The laptop compartment is accessed at the back of the bag, no need to lift a flap to access your computer, and features super-cush foam protection on both sides of the compartment. The laptop is protected from outside elements and gear stored inside too.
The body is made of 1680D Nylon that is water resistant and extremely durable under nearly all conditions. The flaps are PU coated for extra endurance.
Under the flap a roomy main compartment is 2.5 gallons in size, features a zippered mesh pocket 8"W x 5"H. Two 10"W x 10"H pockets and a zippered accessory section with even more pockets are on the found on the exterior just under the flap for added convenience. The 6 inch flat padded base design allows you to load the bag up when needed. Two self-locking buckle closures and hook n loop strips on the flap provide added security on the flap. The custom-build Transit Messenger Bag and flaps including the Team EG and FNATIC versions are now available for pre-order on http://www.SLAPPA.com.
ABOUT SLAPPA
Established in 2002, SLAPPA Distribution, LLC engineers, manufactures and distributes innovative products, offering the highest quality backpacks, laptop bags, sleeves and specialty cases for CD and DVD collectors, DJ's, Pro Audio users, Gamers and photographers. SLAPPA has earned a reputation for offering dependable, quality products with unparalleled performance. The company has been recognized for its excellence by leading consumer publications and sites, both in the U.S. and abroad. SLAPPA products are currently available in 14 countries around the world. SLAPPA, LLC continues to actively expand its domestic and international presence with new and innovative products.
SLAPPA is also dedicated to providing professional and amateur gamers with bags and accessories that provide extreme protection for gear while in transit and at tournaments. SLAPPA is proud to sponsor three world class professional Major League Gaming (MLG) teams; Evil Geniuses-EG, FNATIC and SK Gaming. In addition, SLAPPA sponsors LANs (Local Area Networks) in the U.S. and Canada supporting all gamers in their pursuit to perfect their game and grow the sport.
For more information on SLAPPA products including purchases, distribution and our affiliate program please visit http://www.slappa.com