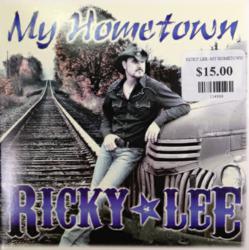 Elma, New York (PRWEB) August 15, 2012
The Made In America Store has presented Ricky Lee, a Nashville Recording Artist, to a slew of events and has helped the American-Country singer find a manufacturer to produce the 100% American made CD. The all American made products store has come together to bring all three of Ricky Lee's Albums together for one low price.
Consumers can visit the store location in Elma, New York, or call the store at 716-652-4872 to place their order. The Ricky Lee CD Collection includes "Freedom", "Ordinary Man" and "My Hometown" for $40. Each individual CD can be found at http://www.MadeInAmericaStore.com for $15.
Ricky's newest album, "My Hometown", features 13 new tracks and was released last month. Since the release of his newest album, Ricky Lee has shared the stage with big Country Star names like Gretchen Wilson, Randy Houser and Lynyrd Skynyrd.
Ricky Lee and the Made In America Store teamed up back in 2010 when the store owner, Mark Andol, discovered Lee's song, 'Made In America." The patriotic song is about Ricky growing up in America and how times used to be with relatives working on the factory line to it eventually being shut down. The song stresses how important it is to keep your values with being made in American.
The Made In America Store offers three of Ricky Lee's albums, and also are 100% American made. Ricky Lee is also committed to the US soldier, just like the Made In America Store. For every CD Ricky Lee sells, he donates five dollars to the VFW Military Assistance Program.
The Made In America Store, which is located at 900 Maple Road in Elma, New York, is committed to selling 100% American manufactured products. You can visit http://www.MadeInAmericaStore.com for more information or shop our catalog of over 3,500 products from over 300 vendors that are devoted to producing USA made products. All US military personnel, both active duty and veterans, receive a discount every day. Consumers can also keep up to date news articles, events, photos and contests with Facebook, Twitter, Google+, Pinterest and FourSquare!