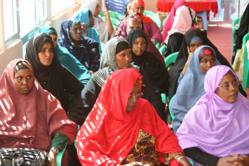 It is crucial that we are seizing this opportunity. Somalis are enthusiastic to take back their country from the insurgents and rebuild their society.
Geneva/Mogadishu (PRWEB UK) 15 August 2012
Interpeace local partner, the Center for Research and Dialogue (CRD), presented the findings from research that gathered input from over 500 Somalis in the report In Pursuit of Peace – Challenges and Opportunities in the Central Regions. Over 200 people including members of the Transitional Federal Government (TFG), Ministers, regional administration representatives, members of the business community, civil society actors and representatives of international NGOs attended the launch.
"The release of this report could not be more timely. Recent months have seen significant improvements in the security situation in the Central Regions. The recovering of Mogadishu from the insurgent forces of Al Shabaab, were followed swiftly by the recapture of districts and regions further afield. The successes by the TFG and the African Union Mission in Somalia (AMISOM) have opened a window of opportunity for increased peacebuilding activities. These projects will help stabilize the recovered areas and restore stability," explains Jabril Ibrahim Abdulle, Director of CRD.
Highlighting the importance of this window of opportunity, Jabril states: "It is crucial that we are seizing this opportunity. Somalis are enthusiastic to take back their country from the insurgents and rebuild their society. With the political transition process coming to an end and the possibilities presented by the improved security situation, we need to focus our efforts on strengthening locally-owned and locally-led reconciliation processes."
Jabril goes on to highlight: "Conducting consultations and dialogue discussions with over 500 Somalis from South Mudug, Galgaduud and more recently Hiiraan, we have really been capturing the voices of the people. This is what's unique about this study and these voices need to be heard in the peace process. We have been reaching out to stakeholders from different sectors of society. Of course we often faced difficult conditions due to the security situation in these regions but we have been engaging with political and business leaders, civil society actors, traditional elders and particularly with women, youth and other marginalized groups whose needs and contributions are often overlooked."
Structured into three main sections, the report explores the Somali view of how to make social and political reconciliation processes effective, how to create legitimate local governance structures and how best to involve civil society actors. It goes on to identify what works and, perhaps more importantly, what does not work in both international and local peacebuilding initiatives.
The Director of the Interpeace Somali programme, Abdirahman Raghe, adds: "A key finding of the report is that the most successful and durable reconciliation and peacebuilding strategies are Somali-led with little or no external engagement. Encouraging external actors to build upon existing structures rather than creating new ones, is one of the recommendations stressed in this latest research document."
Johan Svensson, Interpeace's Regional Director for Eastern and Central Africa concludes: "With the recent optimism and eagerness of different actors to participate in peacebuilding and statebuilding processes, it is essential to capitalize on this momentum. It is key to find a middle ground, which meets local aspirations and needs, but also draws on support from federal government and international actors. As more and more areas are being recovered, international support needs to be rooted in the needs identified by local communities themselves and not imposed by external agendas. An approach that responds to the changed dynamics on the ground and is tailored to the specific needs of different regions and districts will be crucial for success."
Johan goes on to explain: "The report was produced as part of Interpeace's flagship programme in the Somali Region, the Pillars of Peace programme. Launched in 2009, it is being implemented in partnership with Interpeace's three local partner organizations in the region: the Academy for Peace and Development (APD), the Centre for Research and Dialogue (CRD) and the Puntland Development Research Center (PDRC). The Pillars of Peace programme seeks to advance the consolidation of peace in the Somali Region through consensus-oriented approaches to peacebuilding and statebuilding."

ABOUT INTERPEACE
Twitter: @InterpeaceTweet
Facebook: http://www.facebook.com/Interpeace
Interpeace is an international peacebuilding organization headquartered in Switzerland with programmes in 16 conflict-affected countries. It was created by the United Nations in 1994 to work with societies divided by violent conflict to build sustainable peace. It became independent in 2000 and today has an innovative operational partnership with the United Nations.
Interpeace currently supports 300 peacebuilders in programmes in Burundi, Cyprus, Guinea-Bissau, Israel, Liberia, Palestine, Rwanda, the Somali Region, Timor-Leste Central America (Guatemala, Honduras and El Salvador, Nicaragua, Costa Rica, Panama, Belize), and has a thematic programme on post-conflict constitution-making.
ABOUT THE SPOKESPERSON
Jabril Abdulle
Jabril Ibrahim Abdulle is the Director of the Center for Research and Dialogue (CRD) in Mogadishu and one of the leading civil society figures in Somalia. In his work at CRD he has overseen numerous studies on peacebuilding, governance, economic recovery, civil society, and the diaspora.
Prior to returning to Somalia, Jabril was the founder and Executive Director of the Neighbourhood Coalition for Conflict Resolution in partnership with Department of Law of Carleton University in Ottawa, Canada. In 1995, Jabril was appointed to the Board of Directors of the Ontario Trillium Foundation (OTF), one of Canada's leading foundations. In 1997, as a senior consultant with Neighbourhood Solutions Inc., Jabril was consulted on areas of crime prevention, peacebuilding, community development, diversity management, and dispute resolution services. He has provided contractual trainings in Canada, Somalia, South Africa, Sweden and the United States.
ABOUT THE REPORT
The latest report In Pursuit of Peace – Challenges and Opportunities in the Central Regions presented by Interpeace and the Center for Research and Dialogue (CRD) highlights how to make the most of the progressive stabilization of the security situation in certain regions of South and Central Somalia.
Summarizing the findings from a series of consultations, discussions and interviews with over 500 stakeholders from all relevant groups in the regions of Galgaduug, South Mudug and Hiiraan regions, the report identifies the main challenges and possible solutions for building lasting peace in the region.
The report is structured into three main sections: how to make social and political reconciliation processes effective; how to create legitimate local governance structures; and how best to involve civil society actors.
Making Social and Political Reconciliation Processes Effective
The successes of previous local political reconciliation processes have helped to reduce violence, build trust and confidence across communities and provided – albeit in mosaic form – a basis for building stability and development. Reconciliation processes that were locally-led and driven were most successful. Where local dialogue and agreements have resulted in the establishment of a common administration, they have proven to be the sustainable – even in the face of multiple constraints.
The role of women, youth and business groups, when engaged positively, was shown to be important in stopping hostilities among clans at different levels.
The consultations' findings show clearly that it can be very tempting for well-meaning external actors who wish to support the consolidation of peace and provide development assistance to parachute into local reconciliation processes. External actors should build upon existing structures rather than create new ones that could cause further division among communities.
Supporting the Emergence of Local Governance Structures
A trend towards regionalism in Somalia has emerged from the conflict. The creation and ongoing evolution of the Somaliland and Puntland administrations is a classic example of this trend. The involvement of local community leaders, traditional elders and the application of customary practice, and the significant involvement of the Somali diaspora were identified as key success factors.
The need for locally-rooted governance structures that address and provide services and support for local communities cannot be disputed, and all the participants in the mapping exercise agreed on the need for appropriate authority to ensure security and social and economic opportunity.
Harnessing the Power of Civil Society
The majority of NGOs active across the Central Regions had historically focused on humanitarian and social welfare services, including health and education sectors. Their role in providing crucial services in the absence of a strong central or local government and administrative capacity, and in light of limitations of international actors' ability to be present on the ground due to prevailing security considerations, proved invaluable throughout and beyond the conflict. Sustained international support to the civil society sector generally has been necessary and critical in ensuring that those that did stay could operate, and to enable the regeneration of NGOs and community-based groups now that territory is being recovered.
The support of the Somali diaspora proved critical in the provision of financial support and skilled personnel to ensure health and education services were available to local communities.
The findings show, however, that civil society has not been very active in the areas of peacebuilding and the promotion of human rights, gender equality and stability. The business community has flourished in the regulation-free context, and did sometimes actively contribute to peacebuilding, primarily through the ability to provide much needed economic opportunities.
Some of the challenges faced by civic actors were found to be a crisis of legitimacy, lack of skilled human and financial resources, lack of external support and reluctance on the part of the TFG and international community to include them in dialogue and statebuilding processes.
Conclusion
As argued in the three thematic chapters, the most successful and durable reconciliation and peacebuilding strategies have been led by local communities with little or no external engagement. With the retreat of radical groups and the restoration of a basic level of security, a number of community leaders from the recovered areas are beginning to explore possible opportunities to launch local reconciliation processes leading to the establishment of local governance structures. Initial efforts to strengthen basic service delivery including health, education and basic security are beginning to revive regions such as Galmudug, Himan and Heeb. The improved security situation is also attracting diaspora groups and local and international NGOs with the promise of being able to operate freely. If administrations are able to secure external support, they could begin to strengthen and broaden their capacity to deliver services across the districts.
There is a danger, however, that the numerous external actors try to impose their vision for the region, rather than listening to the views and choices of local communities. It is imperative that the voices of local communities are heard and responded to. A middle ground should be found which meets local aspirations and needs, but as part of a national model that is able to provide further financial, security and developmental support from the central government and international supporters.