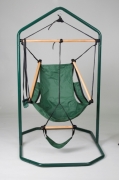 Green Mountain Hammocks can be hung from trees, fences, hammock stands, walls, patio railings, boats, etc
Australia (PRWEB) August 15, 2012
SEO Service Group's new client, Green Mountain Hammocks, provides an avenue for customers to buy their dream hammock for their own backyards. Their company is well known for providing quality service and expertise to their customers throughout the years.
Green Mountain Hammocks, SEO Service Group's client, believes that everyone should have the luxury to enjoy a Brazilian hammock. When asked about the popularity of hammocks, a company representative responded by saying, "Hammocks have hit an all time height in popularity and the Brazilian style leads the way in comfort, quality and design. We are proud to present to you with our newest selection! All colours and styles have been market tested to assure that only the very best make it to your backyard. Welcome to our world of relaxation and... start the day dreaming in your own hammock!"
The company has employed the services of SEO Service Group to enable potential customers to find their unique offering of hammocks by searching for: "hammock chair" and "greenmountainhammocks" in Google's search engine.
When asked about the best place to hang a hammock, the company responded by saying: "Green Mountain Hammocks can be hung from trees, fences, hammock stands, walls, patio railings, boats, etc. Our hammocks have loops on the end and can be easily hung from any secure area. Your imagination is the only limit! If space is an issue, the Boca or Air chairs can be hung from a secure spot anywhere and give you the hammock comfort you desire."
Hammock enthusiasts now have a way to purchase the highest quality hammocks from around the world. The company has teamed up with the most prominent hammock suppliers in the world to offer its customers the best value possible. By offering a wide selection of hammocks, hammock chairs and hammock stands, they have been able to be a part of the popularity increase of the industry.
For more information regarding Green Mountain Hammocks and to see their impressive selection of hammocks, please visit http://www.greenmountainhammocks.com.
About Green Mountain Hammocks
Green Mountain Hammocks started when the founder, Dave Heifetz, was on vacation in Brazil. Once he laid down in a hammock, he felt the urge to provide people from all over the world with peaceful, relaxing hammocks. Ever since, he has made it his goal to provide customers with the best hammocks in the world. His knowledge and expertise has enabled customers to turn their backyards into an oasis.