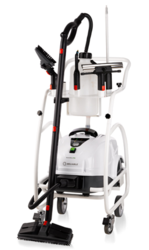 A cleaning professional seeing the PRO for the first time sitting on its trolley might guess it costs double or triple its price.
Lake Forest, IL (PRWEB) August 15, 2012
1-800-GO-VAPOR.com, a leading nationwide marketer of premium vapor steam cleaners quality built to last, today announced the availability of the EnviroMate PRO EP1000, Reliable Corporation's most powerful vapor steam cleaner yet.
"With its Italian styling and pristine white finish, the PRO EP1000 is a handsome system that cleans as well or better than most chemical cleaners," says V. K. Dunlop, 1-800-GO-VAPOR.com vice president. "A cleaning professional seeing the PRO for the first time sitting on its trolley might guess it costs double or triple its price."
The powerful 1750-watt, high-output PRO EP1000 provides versatility, durability and reliability in a complete package. Using breakthrough Italian technology, the Pro converts ordinary tap water to low-moisture super heated vapor steam to clean, sanitize and deodorize almost any surface without toxic chemicals that threaten human health.
The PRO EP1000 comes standard with Reliable's CSS™ Continuous Steam System for non-stop cleaning. High temperature 257°F dry steam combined with pressure up to 87 PSI eliminate dirt, grime, caked-on grease, hardened chewing gum and the toughest stains—all while eliminating harmful elements like mold, mildew, bacteria, viruses and allergens. With the PRO EP1000, bloodthirsty bed bugs are a thing of the past.
The EnviroMate PRO EP1000 is ideal for schools, hotels, restaurants, contract cleaning, mold remediation professionals, water- and fire-cleanup services, auto detailers and resellers, offices and public houses, yet it remains light and compact enough for use in the home.
"The rugged and handsome construction of the PRO EP1000 promises a long operating life in any settings," says Dunlop.
Located in Lake Forest, Illinois, 1-800-GO-VAPOR.com is moving fast to educate consumers and businesses that finally, there's a feasible, environmentally friendly alternative to chemicals. The company markets Reliable, Vapamore and Ladybug steam cleaners worldwide. The top-selling Ladybug Tekno 2350 steam cleaner comes standard with Ladybug's proprietary patented TANCS® technology. Qualifying as a disinfection device for the U.S. Environmental Protection Agency, the Tekno 2350 is scientifically proven to achieve a greater kill rate in 3 seconds than a 20-minute exposure to bleach. For more information, call 1-800-468-2767. 1-800-GO-VAPOR.com is a proud member of the Safer Chemicals, Healthy Families coalition, a nationwide effort to protect families from toxic chemicals. To stay safe and avoid toxic chemicals, keep abreast of the latest news with 1-800-GO-VAPOR.com's Twitter account, @1800GOVAPOR.