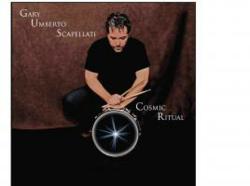 "There's great diversity in 'Cosmic Ritual' and a wide range of instruments and sounds. It makes Scapellati's sound unique in the fusion world." - Evan Roth, Warner Brothers Entertainment
Los Angeles, CA (PRWEB) August 15, 2012
Jazz/Fusion drummer, Gary Umberto Scapellati, releases "Cosmic Ritual".
"Scapellati has a unique sound going & I can tell that it comes from a genuine place." - Noah Sneider, KSPC 88.7FM Jazz Director
"Got it...love it. A drummer myself, I really appreciate what it is he is doing on this recording." - Ron J. Pelletier, KCSM-FM 91 San Francisco / Jazz from Gallery 41
Gary Umberto Scapellati takes us on a cerebral journey through his story with "Cosmic Ritual," his debut instrumental album of original compositions reflecting his interests in music and science. Scapellati has been a musician since the age of seven, and, as a teenager, began performing in New York City with The Phil Edwards Orchestra. After receiving his college degree in electrical engineering, he entered the technology field, and later decided to pursue an education in music under the tutelage of L.A. Philharmonic percussionist, Greg Goodall. Scapellati's composing philosophy and ultimate goal is to have his music tell an interesting story, and to have his drumming play an integral part.
"Cosmic Ritual" has received similar feedback from many listeners and industry pros: unique, interesting, and intelligent. Tracks such as "Cosmic Ritual" and "Phrase Shift" combine complex poly-rhythms, instrumental counterpoint, and interesting melodies to reflect the stories of the people, places and experiences in his life. "Allison's Wonderland" is a beautifully arranged piece dedicated to Scapellati's daughter, representing her "curiosity, musical talents and beauty." Each track tells a different tale with diversity, strong dynamics, and tension and release.
Every note of "Cosmic Ritual" was written and performed/sequenced entirely by Gary Umberto Scapellati and recorded at State of the Muse Studios. The result is a unique, interesting, and intelligent album worth taking the time to sink your teeth into.
If you have any comments or would like to set up an interview, please contact Melissa Zeigler: melissa(at)powderfingerpromo(dot)com.