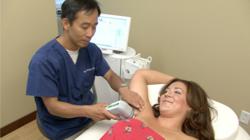 Leesburg, Virginia (PRWEB) August 16, 2012
Excessive sweating can be both physically and emotionally debilitating. Known as hyperhydrosis, the condition can have a tremendously negative impact on a person's quality of life.
Dr. Phillip Chang, a board-certified plastic surgeon in Leesburg, VA, is now one of the first plastic surgeons to offer the miraDry Laser System for excessive sweating. The laser treatment, which has been approved by the FDA, provides up to 90 percent improvement for those who suffer from this embarrassing condition.
Up to 30 percent of the population are afflicted with hyperhydrosis, according Dr. Chang. "These people often suffer silently," he said. "They are often ashamed, frustrated and embarrassed because excessive underarm sweat interferes with many aspects of their lives."
One of Dr. Chang's patients told him he had to change shirts two or three times a day because of sweat stains. "Another told me that it was difficult being intimate when she was dating because she was always worried about what her date was thinking."
The miraDry system delivers precise, controlled electromagnetic energy to the area where the sweat glands reside. The heat directly eliminates the sweat glands. Since sweat glands do not regenerate, results are effectively permanent.
The procedure is performed in Dr. Chang's office with minimal discomfort. "It is non-invasive with little to no downtime, so patients can go about their normal routines after treatment," he said. The full treatment plan requires two procedures about four weeks apart.
Clinical studies have been able to show a 90 percent satisfaction rate after only two treatments. For more information, go to http://www.GoToBeauty.com or call (703) 729-5553 to schedule a free consultation with Dr. Chang.
# # # # #
Dr. Chang is a board-certified plastic surgeon offering cosmetic surgery procedures such as breast augmentation, breast reduction, mini-facelifts, facelifts, rhinoplasty and Mommy Makeovers to patients in the greater Northern Virginia area. Dr. Chang specializes in performing procedures with minimal scars and minimal recovery. He is routinely featured in publications such as New Beauty.