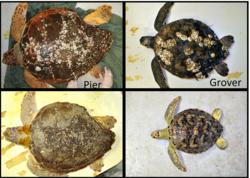 Charleston, S.C. (PRWEB) August 14, 2012
Join us this Thursday, August 16, 2012 to wish two sea turtles luck on their return to the open ocean. Pier, a juvenile loggerhead who suffered a shark attack, and Grover, a juvenile green, will be released at 3 p.m. sharp at Beachwalker County Park on Kiawah Island, SC. This release is being held in partnership with the South Carolina Department of Natural Resources (SCDNR) and the Charleston County Parks and Recreation Commission (CCPRC). The event is open to the public; attendees should plan to carpool, arrive early, and expect to pay for parking at the County Park.
More about the turtles being released:
Pier: Pier is a 60-pound juvenile loggerhead sea turtle. S/he has survival skills many sea turtles would envy! At least one month before being caught on a fishing line off the Folly Beach Fishing Pier; Pier had a close encounter with a shark. The shark made a meal out of a large section of Pier's shell but despite the attack, s/he avoided losing any flippers and successfully escaped. Treatment included cleaning of the bite wound, antibiotics and pain medication. Pier is being released two months to the day of his discovery, a speedy recovery for a sea turtle to get back into the open ocean.
Grover: Grover is a 9-pound juvenile green sea turtle. S/he was found cold stunned in Cherry Grove, South Carolina on St. Patrick's Day of this year. Because sea turtles are cold-blooded reptiles, they become hypothermic when exposed to cold water temperatures for long periods of time. Grover's treatment included antibiotics, injectable vitamins, fluids and even sun baths! Grover is back to optimal health and will soon be flapping his/her flippers in the great blue sea.
Turtle Release Details:

Two patients being released
August 16, 2012
3:00 p.m.
Beachwalker County Park, Kiawah Island, SC
Arrive early to get parking and avoid lines (parking fees apply)
Visitors are encouraged to carpool!
It costs approximately $36 per day to treat each sea turtle in the hospital, which amounts to a program budget of close to $321,000 each year. The Sea Turtle Rescue Program is part of the South Carolina Aquarium, a 501(c)3 non-profit that relies on the support of the community to treat and rehabilitate these endangered species. You can help support the program by making a donation and by visiting the hospital on a behind-the-scenes tour. Just go to http://www.scaquarium.org for more information. With your support, staff can continue to rehabilitate sick and injured sea turtles found along our coast.
If you find a sick or injured sea turtle, contact the local police department or call the South Carolina Department of Natural Resources hotline at (800) 922-5431.
For all media inquiries, please contact Kate Dittloff at (843) 579-8660 or kdittloff(at)scaquarium(dot)org. Any media planning to attend the event must R.S.V.P by noon August 16, 2012.
About the South Carolina Aquarium Sea Turtle Rescue Program:
In partnership with the South Carolina Department of Natural Resources (SCDNR), the South Carolina Aquarium Sea Turtle Rescue Program works to rescue, rehabilitate and release sea turtles that strand along the South Carolina coast. Located in the Aquarium, the Sea Turtle Hospital admits 20 to 30 sea turtles each year. Many of these animals are in critical condition and some are too sick to save.
According to SCDNR, over the last 10 years the average number of sea turtle standings on South Carolina beaches each year is 130. Of these, roughly 10% are alive and successfully transported to the Sea Turtle Hospital. To date, the South Carolina Aquarium has successfully rehabilitated and released 92 sea turtles and is currently treating 9 patients. The average cost for each patient's treatment is $36 a day with the average length of stay reaching nine months.
About the South Carolina Aquarium:
The South Carolina Aquarium, Charleston's most visited attraction, features thousands of amazing aquatic animals from river otters and sharks to loggerhead turtles in more than 60 exhibits representing the rich biodiversity of South Carolina from the mountains to the sea. Dedicated to promoting education and conservation, the Aquarium also presents fabulous views of Charleston harbor and interactive exhibits and programs for visitors of all ages.
The South Carolina Aquarium, a 501(c)(3) not-for-profit organization and is open Daily from 9 a.m. to 5 p.m. The Aquarium is closed Thanksgiving Day, half day Dec. 24 (open 9 a.m. to 1 p.m.) and Dec. 25. Admission prices are: Toddler's (3 and under) free; Youth (4-12) $14.95; Adults (13+) $24.95. The Aquarium plus the 4-D Theater experience is free for Toddler's, $19.95 for Children, $29.95 for Adults. The 4-D Theater experience only is $6.95 for Children and adults, and free for Members. For more information call 843-720-1990 or visit scaquarium.org. Memberships are available by calling 843-577-FISH.
###