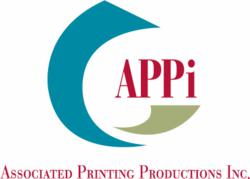 It's truly an honor to be recognized by the printing industry as a company that produces top quality award winning print materials.
Orlando, FL (PRWEB) August 15, 2012
http://www.appi1.com Associated Printing Productions Inc. (APPi) captured an astounding Twenty Six Awards including One Flamingo Award (Prestigious State of Florida First Place Award), Thirteen Best of Category, Twelve Awards of Excellence and One Judges Award at the 25th Annual Florida Print Awards ceremony. The printing industry's largest and most prestigious statewide graphic arts competition recognized APPi as being among the top Printers in Florida as they dominated the competition. The Printing Association of Florida (PAF) presented the awards to the elite South Florida commercial printer APPi during a banquet on August 3, 2012 at the Walt Disney World Swan and Dolphin Resort in Lake Buena Vista, Fla.
"It's truly an honor to be recognized by the printing industry as a company that produces top quality award winning print materials" said the APPi executives Richard and John Beadel. "We are very proud of our dedicated and valuable staff and thankful to have such amazing clients."
George Ryan, President and CEO of PAF, agrees. "Year after year, the quality of the submissions for the Florida Print Awards increases, raising the standard to which they are held. It seems like we say this every year, but the judges remarked how they were, once again, impressed with the entries submitted by PAF members and also said this year's competition was the toughest yet. Associated Printing Productions Inc. should be very proud of their outstanding accomplishments."
The Florida Print Awards recognize individuals, companies and organizations responsible for the creation or production of print communications. The competition promotes excellence in the industry and recognizes companies and individuals who produce the best in print media.
PAF, host of the Florida Print Awards, is the state's largest graphic arts trade association.
About Associated Printing Productions Inc. (APPi)
APPi is among the highest rated quality printing companies featuring a 30,000 square foot, state of the art on site manufacturing facility in Miami Lakes, FL. APPi is a premier commercial printer in business for over 20 years known for providing impeccable quality, state of the art printing, sheetfed and digital printing services, fulfillment, binding and finishing services. APPi offers sheet fed presses up to and including 40" six color with aqueous coating, high quality 4 color digital printing, full service bindery, die cutting, gluing and a complete Electronic Pre-Press department.
As a leader in the printing industry, APPi is environmentally conscious through lessening the carbon footprint and becoming one of the first printers to earn the coveted Triple Certification from FSC, SFI and PEFC. The extraordinary steps required to be triple certified in the use and Chain of Custody of papers from well-managed forests helps to ensure that our paper is manufactured by companies who adhere to strict environmental and socio-economic standards. This also ensures that we are not contributing to deforestation of precious rainforests, habitat destruction, water pollution, displacement of indigenous peoples or violence against people and wildlife that often accompanies logging.
For more information about Associated Printing Productions Inc. (APPi) please contact Sevak Girard at 305-623-7600 ext. 216 or visit the company's website at http://www.appi1.com.
####