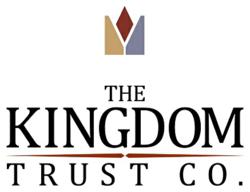 "We want to be good, responsible stewards of our environment."
CEO Doug Lawson
Murray, KY (PRWEB) August 16, 2012
The Kingdom Trust Company, one of America's fastest growing alternative asset custodians and self-directed IRA providers, is doing its part in the "Greening" of America. The company recently announced that its new on-line account opening feature on its web site makes the need to print out nearly a dozen enrollment forms unnecessary.
One of the first of its kind in the industry, the on-line account opening feature allows users to completely open an account with the firm, including document signing, according to Chief Operating Officer, Bo Ives. "Most companies offer the user the opportunity to fill out their forms on-line, but require the user to print out the forms, sign them, then fax or email them back to the company," said Ives, noting it took the company 12 months to take the project from concept to completion. "We provide a space for a digital signature, so when the customer hits send, he or she has an account with Kingdom Trust."
Not only is this new procedure ideal for the account holder and Kingdom Trust, the environment benefits with the paperless process. "First and foremost, we wanted to make the customer experience as streamlined as possible," explained Kingdom Trust CEO Doug Lawson. "But we certainly are aware of the benefits to the environment that this process provides, and we want to be good, responsible stewards of our environment."
Opening an account is the first step in taking control of your retirement investments. A Self-Directed IRA is a phenomenal wealth building tool and is gaining momentum each and every day as investors seek to diversify their portfolios and add more main street investments, such as real estate, precious metals, private company stock, and a host of other options. "Opening an account on-line simply provides Kingdom Trust Company with the necessary information to serve the client effectively and efficiently as they make their investments within their self-directed IRA," Ives explained.
The Kingdom Trust Company is a South Dakota non-depository trust company with offices in Sioux Falls, S.D., Chicago, Ill., and Murray, Ky. More information can be found at http://www.kingdomtrustco.com.