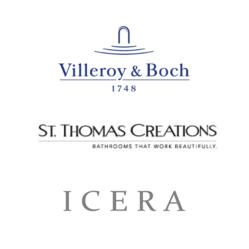 Charles Chuk, Chairman of the ICERA Group, affirmed that "we are absolutely committed to investing in and rejuvenating the St. Thomas Creations brand, and taking it to new heights. Our expectations are very high."
Carson, CA (PRWEB) August 15, 2012
The Villeroy & Boch group is pleased to announce the final act in the group's America restructuring: St. Thomas Creations, a fixture within American bath culture for over 25 years, will soon be returning to independent ownership. Villeroy & Boch, the leading European bathroom company, today announced the planned divestiture of St. Thomas Creations and the acquisition thereof by the parent company of ICERA, a manufacturer and innovator of premium bath fixtures. Completion of confirmatory due diligence and closing are expected by the end of August.
To ensure continuity of customer service and fulfillment, an organized transition is planned for St. Thomas during the course of this year. Operations will continue from Villeroy & Boch facilities during the transition period, which will gradually transfer over to the ICERA organization within several months. Based in Los Angeles, ICERA has also established a new distribution center in New Jersey. By the end of the transition period, St. Thomas product shipments will be fulfilled from both the East and West Coasts of the U.S.
After the transaction, St. Thomas Creations will be independently‐owned and operated, and fully separate from Villeroy & Boch. It will no longer be a subsidiary of, nor affiliated with, Villeroy & Boch in any way.
"This transaction will unlock the full potential for the St. Thomas brand in its home market, while maximizing realizable value for our shareholders," concluded Michael Swan, President of Villeroy & Boch's Bathroom and Wellness Americas Division. Charles Chuk, Chairman of the ICERA Group, affirmed that "we are absolutely committed to investing in and rejuvenating the St. Thomas Creations brand, and taking it to new heights. Our expectations are very high."

About St. Thomas Creations
Founded in 1987, St. Thomas Creations is a leading manufacturer of decorative, high‐performance water closets with coordinating bathroom furnishings and accessories in the Americas. With principal operations in the U.S., St. Thomas has affiliated manufacturing facilities in North America, Asia and Europe. St. Thomas Creations' upscale, traditional and contemporary‐styled products are marketed through kitchen and bath showrooms, plumbing wholesalers and retail distributors nationwide. For more information, please visit http://www.stthomascreations.com.
About Villeroy & Boch
Villeroy & Boch AG is located in Mettlach, Germany, has approximately 8,000 employees and operates production facilities in Europe, Mexico and Thailand. Villeroy & Boch offers innovative product and furnishing concepts for private customers and property developers. Villeroy & Boch is represented in 125 countries with its high‐quality products. Villeroy & Boch celebrates 264 years of tradition and has been a pioneer in the use of innovative materials, production techniques and, in particular, design – one of its key brand attributes. This is reflected in the wide range of design and innovation awards the company has won. For more information, consumers may visit http://www.villeroy-boch.com/en/us/home.html.
About ICERA USA
For 20 years the ICERA Group has been dedicated to the innovation and manufacture of premium bath fixtures. Specializing in one‐piece, high‐performance water closets and the most technically challenging of ceramic products, ICERA strives to surpass industry standards and consumer expectations. With collections ranging from the contemporary to the classic, ICERA products combine uniqueness and elegance in design, best‐in‐class performance and lasting quality. For more information, please visit http://www.icerausa.com.