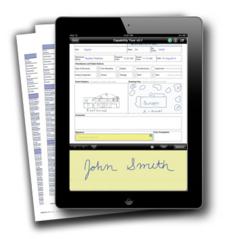 naturalFORMS leads the market with a robust feature set for efficient mobile data capture
Miamisburg, Ohio (PRWEB) August 14, 2012
ExpeData announces a new release of its naturalFORMS® data capture solution designed for the mobile workforce. Version 1.4 available now on the App Store℠ includes exciting user interface and feature functionality enhancements delivering the most accurate and efficient data capture available on tablet devices.
Mobile workers in multiple industries leverage naturalFORMS to easily and efficiently complete business forms on tablet devices using natural input such as handwriting. naturalFORMS also allows users to capture photos, drawings, annotations, voice, GPS, and electronic signatures. Captured information is immediately converted to digital data, verified for accuracy, validated with enterprise rules, and available in standard file outputs for integration.
Key features and enhancements in naturalFORMS version 1.4 include:
Intelligent Form Fields (Calculations, Auto Fill, Conditional Mandatory Fields, Format Validation)
Intelligent field functions increase efficiency and accuracy while making the experience intuitive for the mobile worker. Real-time calculations can occur between fields or across multiple pages. Fields can be auto-filled from one location on a form to additional areas of the form. Conditional mandatory fields can be used to enforce mandatory information capture based on the input of a checkbox field. Form fields such as telephone numbers, date and time, or quantity can have predefined formats to ensure data is collected accurately with users receiving an error or warning message if the format entered is incorrect.
Automatic Form Review And Validation
naturalFORMS 1.4 has the capability to perform an automatic form review that ensures data is complete and adheres to defined business rules prior to submission. Validation capabilities include checking for mandatory and conditional mandatory fields, verifying that the specified format for a field has been followed, checking that there are no errors in calculated fields, and ensuring that all mandatory voice, photo, and GPS attachments have been supplied.
User Interface And Tool Enhancements
Version 1.4 includes enhancements to the app interface for forms navigation and search functionality to ensure an optimum user experience. Form design flexibility and customization has been enhanced for those customers that utilize ExpeData Forms Manager tools to create their own forms.
"naturalFORMS leads the market with a robust feature set for efficient mobile data capture," said Matt Palcic, Principal Solution Architect, ExpeData. "We continue to enhance the application to meet the needs of our clients to ensure the most accurate, complete, and natural field data capture experience possible."
A free demo app and capability tour of the new features is available at https://naturalformsapp.com.
ExpeData is hosting interactive webinars featuring live demonstrations of naturalFORMS. To register, visit http://www.expedata.net/webinars/index.asp.
About ExpeData®
ExpeData, an innovative software company and a global leader in natural input technologies, provides an end-to-end mobile data capture platform that automates the collection of natural input at the point of entry. Information captured with tablets or other mobile devices is immediately converted to digital data and seamlessly integrated to backend systems. Straight-through processing eliminates cycle time delays, resulting in unsurpassed workflow optimization and significant cost savings. ExpeData's solutions are used across the globe, delivering value in multiple industries. To learn more, visit http://www.expedata.net.
#########
ExpeData, and marks shown with an ® are owned by ExpeData or their respective owners, and registered with the U.S. Patent and Trademark Office. Other trademarks, such as product and service names, found on ExpeData web sites are owned by ExpeData or by third parties. Android is a trademark of Google Inc. iPad is a trademark of Apple, Inc., registered in the U.S. and other countries. App Store is a service mark of Apple, Inc.